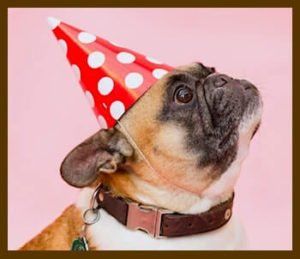 A good dog collar is essential for any pet. Collars provide a sense of identity for our pets – in more ways than one. A good collar offers a place for a name tag and other information, just in case the worst should happen to our companion.
These collars also offer a bit of a glimpse into the personality of the dog and their owner. From a more practical point of view, all dogs need a strong collar in order to attach a leash for walkies. With so much at stake here, it really is important to find the best leather dog collars possible.
In this guide, we will look at some of the best products available, with some information on their pros and cons. Following that, we want to offer a guide to choosing the right product for your animal. This will be accompanied by other tips on the fit and options out there. Before all of that, let's consider some of the benefits of choosing a genuine leather dog collar over a different material.
Why choose leather when picking out the best dog collar for your pet?
There are some preconceptions about leather collars that may put some people off the idea of buying one. The first is the price tag. High quality leather dog collars aren't going to be a cheap as a fabric option. However, you need to see this as an investment item. You are paying a little more for something that should last. Then there is the idea that these are boring, heavy collars that won't suit the dog. This doesn't have to be the case. There are plenty of different designs and styles out there.
The great thing about a leather collar for dogs is that this is sure to be a quality item that will meet all those basic needs. It will have the strength and durability to last for many years. It will have all the right features to ensure that it is suitable for long walks. It will also look great.
Faux leather vs genuine leather
This is an important consideration, especially for dog owners that are vegan or have other concerns about animal products. There are lots of brands that will use genuine leather because of the look, feel and strength of the product.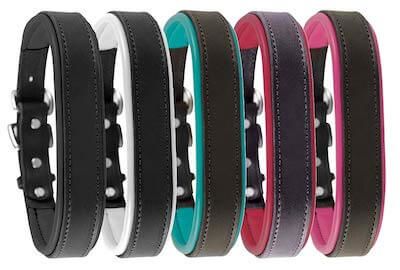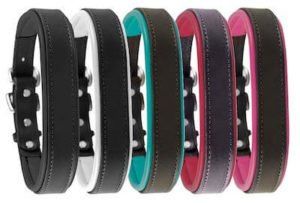 Yet, there are also those that will use a fake leather substitute so that there are no animal products involved. As long as the material is still durable and the craftsmanship is good, this could be a good compromise. There are still some great faux leather options that look like the real thing.
Top 8 leather dog collar reviews
Below are 8 products that we really like that are made from leather. Each has its own style and clear pros and cons to consider before you pick the best collar for your dog. We have compiled some of the highlights here for easy reading.
We tested collars for comfort, durability, and nap time and found the Genuine Canine leather collars came out on top! The ten year guarantee is the best leather dog collar guarantee that you'll find and their quality is second to none!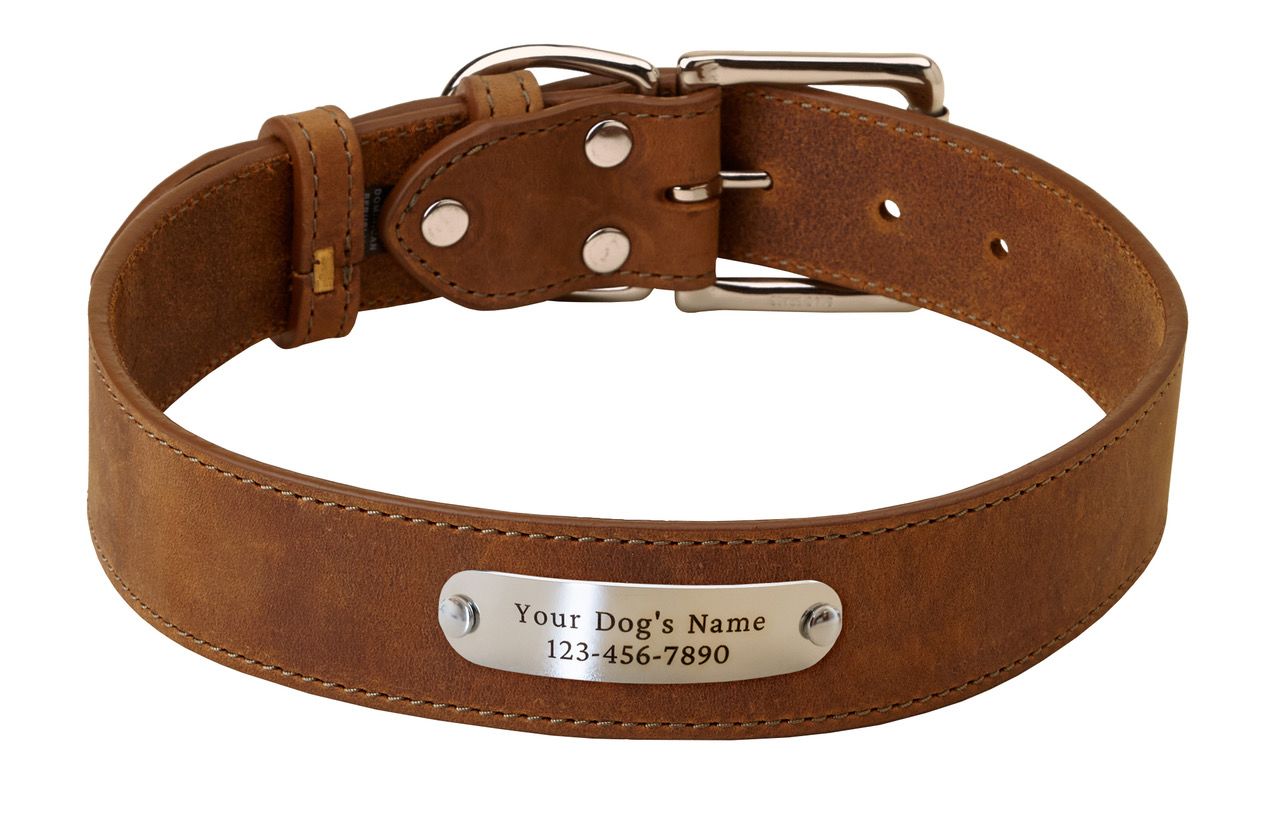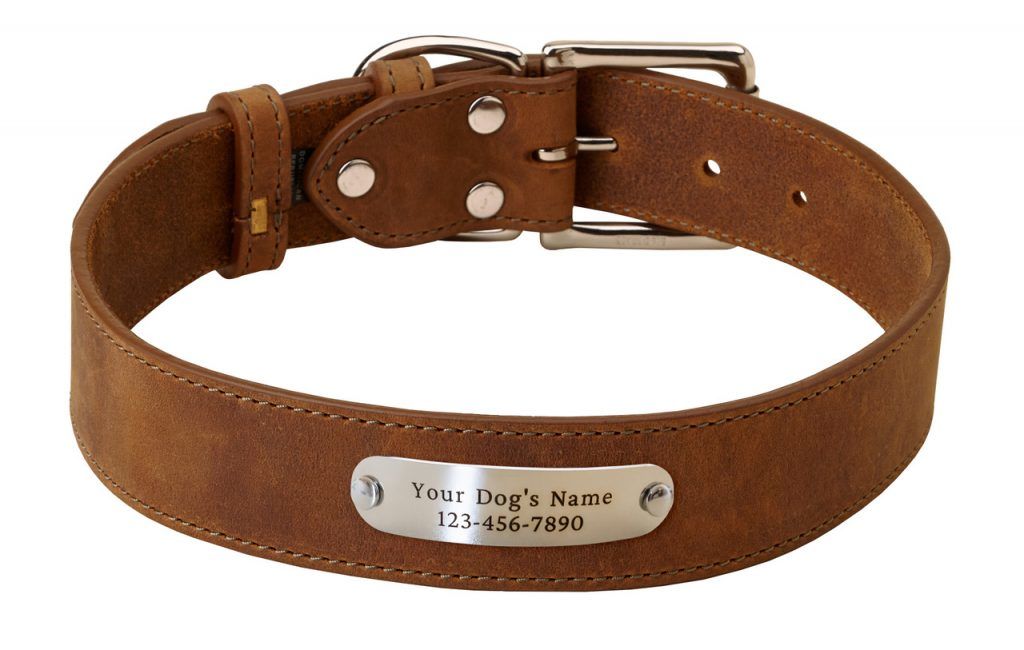 This first collar in our guide is one made from genuine leather. There is the promise of quality and attention to detail with the sealed edges, stitching and use of full grain leather.
The great use of materials continues with the brass on the buckle and D-ring. The large fits necks between 18-21 inches, the medium between 14.5 and 17.5 inches.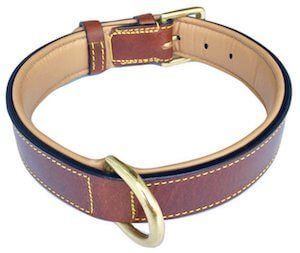 Things We Liked
This product comes in a great choice of two-tone colour schemes. There is an exterior colour, typically in a traditional brown or tan, with a complimentary colour inside.
There is also the addition of the ring next to the buckle so that users can add dog tags as needed.
There are lots of positive comments from users about the look of this collar, especially when bought with the matching leash.
Things We Didn't Like
There are some negative comments about sizing issues. Some found that it was either too big or loose and that there weren't enough holes and adjustments.
There is also the notion that this collar only really stays at its best with good care and maintenance.
The USP for this option has to be this idea of a military grade collar. The idea here is that the genuine leather and fastenings are so strong that they can contain ever the strongest pullers.
In fact, it promises to hold dogs that are 200lbs. The collar comes in three sizes: 15-19 inches on the medium, 16-21 inches on the large and 18-26 inches on the extra large.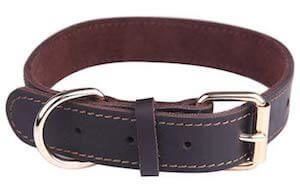 Things We Liked
Like the model above, there are D rings from the leash and for attaching ID tags.
There are some great comments about the strength of the collar, which suggests that the quality metalwork and "meticulous" stitching paid off.
Some say that the collar is also surprisingly flexible and comfortable for something so thick and strong.
Things We Didn't Like
The first downside here is the design. There is one colour – a pretty boring dark brown – and no lining on the inside.
There is also a small design flaw with the bands that hold the end of the collar in place. The weight of the leather means that there can be a lot of leather hanging down when the collar is on its smallest setting.An extra band for security would help.
This next option is something a little different. Here we have an interesting example of a personalised leather dog collar.
This brand allows buyers to create an inscription for a small plate on the collar. Like the options above, this is an adjustable collar and comes in three sizes. There is a 12-16.5 medium, 15.5-20.5 large and a 19.5 to 24.5 extra large.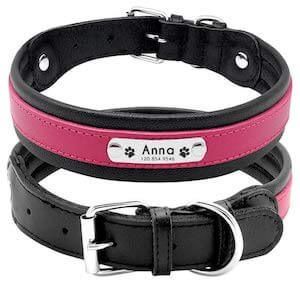 Things We Liked
The first benefit is clearly that personalisation on the plate. There is room for names and contact information. Buyers also say that it lasts a long time.
Buyers will also like the fact that this collar comes in a range of fun colours to suit the personality of the dog. This ranges from hot pinks to blues with some braiding effects too.
The company has taken great care with the shape and padding on the collar to provide a comfortable fit for long term wear.
Things We Didn't Like
There are some negative comments about quality control issues, such as dented or wonky plates. Yet, these reviews are in the minority.
There are some of the usual issues about sizing that may be more down to user error than the range offered.
As you can see from some of these top products, there is a big emphasis on the style of the collar. Colour is one way to provide this. Another is to use some sort of distressed look.
This Bourbon Brown dog collar looks like it has been worn for years already. There is a buckle, plenty of adjustments for different size necks and a D ring for a leash.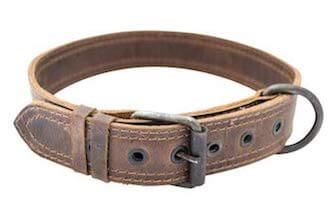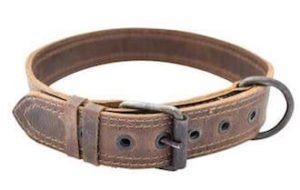 Things We Liked
It may look rustic, but it is actually built to last. The collar has double layering and double stitching to provide longevity.
There is some great attention to detail on the design with the rustic metal loops and eyelets adding to the effect.
The rustic feel also means that there is a softness and flexibility to the product that some other options don't have. This should add to the comfort levels of the dog.
Things We Didn't Like
There is just one size here. This means that if your dog doesn't have a neck size between 10 and 19 inches, it won't be a good fit.
There are some occasional reports of eyelets and loops falling out.
Going back to those personalised dog collars in leather, we have a product that currently ranks as an Amazon's Choice option. This collar is very cute. It comes in a range of bright colours from across the rainbow and has the inscription engraved right into the leather. This means plenty of space for further details and a great look.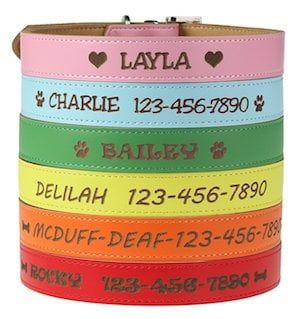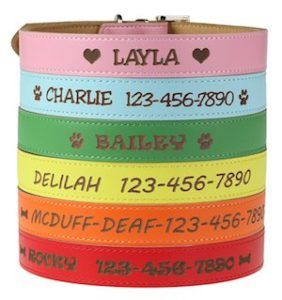 Things We Liked
The personalisation is important with this product. There is the chance to add more than just a name and contact number. There is also a choice of fonts.
There is also a surprising number of size options compared to some other collars. The largest is the large collar at 18-22 inches. The smallest is an extra small at 8.5-11 inches.
There are some great comments about feel of the leather, which is somewhere in the middle of flexible and strong.
[/su_list]
Things We Didn't Like
There have been some sizing issues because there is no overlap between the choices.
Some strong dogs have broken the collars after a few months of use.
This option blends some of the more interesting features from previous models in this guide. First, there is the use of braiding on the leather strap of the collar.
This adds a nice texture and design to the collar. Then there is the two tone effect with a choice of colours. Finally, there is the customisable metal plate for the name and contact number of the dog.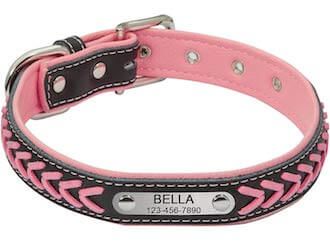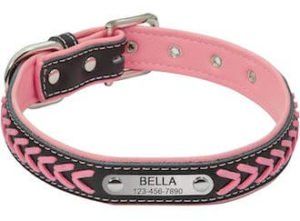 Things We Liked
That leather collar is 100% genuine and strong for a great quality item. There is some give when dogs pull, with no sign of damage to the product.
There are five different sizes to choose from – from extra small to extra large – which means that owners should be able to find the one they need. The smallest is for neck sizes between 8-10 inches. The largest is for necks between 18 and 22 inches.
The plates are laser etched for precision on the names and numbers.
Things We Didn't Like
There is the suggestion from a number of buyers that these collars run small. This is important for those dogs that are half an inch between sizes.
There are also some comments that the colours don't always match the sales photos.
This last model doesn't have any personalisation. But, it is regarded as another Amazon's Choice product in leather collars. This is a Full grain leather dog collar that has many of the important features we now come to expect from these products.
There is a strong, good looking leather in different tones. There is also a D ring for a leash made from brass.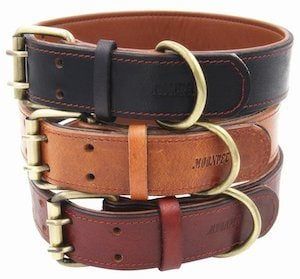 Things We Liked
There is a good overlap on the sizes so it shouldn't be as difficult to find a good fit. The small measures between 12.4-16.4 inches, the medium is 16-20 inches and the large is 17.2 to 22 inches.
The leather and stitching are of a high quality and there are few concerns about the longevity of the collar.
The attention to detail on the colours and branding mean that this is a good, classic looking product.
[/su_list]
Things We Didn't Like
There are comments that there is a bit of a smell to the product for a week or so. It may need some time to air out before using it.
There are also those that say that the prong on the buckle is too sharp and need to be filed down before use.
Important features to consider:
Let's go over some of those key features again to determine the best elements of these top leather dog collars.
The material: Ideally, this means a full grain leather collar for dogs with brass rings and good stitching.
The fit and fastening: There should be plenty of size options and adjustments on the collar for a secure, comfortable fit.
The colour and design: Coloured leather adds a little fun, as does braiding. Two tone options are especially appealing.
The ability to add tags and personalisation: personalisation can enhance the purpose of the collar, and there are two ways to do so.[/su_note]
Dog collar ID tags on a genuine leather dog collar
Dog ID tags are a great way to ensure that your dog can be relocated if they ever run off or get lost. Rescuers can read the information on these little brass tags and contact you immediately. Traditional tags are a simple choice. The best leather dog collars will have a ring in place where you can attach the tag with ease. Always check to see that it is mentioned in the specification, but also look at its placement on the collar. Is it in an awkward place that will irritate the dog? Is it likely to come loose? If these tags seem like an insecure option, there is another choice.
Finding the best personalized leather dog collars.
Then there is that idea of personalisation. As you can see from some of the products we have highlighted above, there are different ways to do about doing this. The ID tags are a good starting point on some basic collars. But, they can get lost and don't add much to the product itself. Then there are those that provide the plates for engraving. This means that you can make the collar personal in a more practical manner. The more you pay, the better the materials and engravings on those plates. Alternatively, you may find the perfect leather collar for dogs and get a custom plate to attach to it at a later date. Finally, there are those that engrave the information directly onto the collar. This may prove to be the most practical and attractive solution.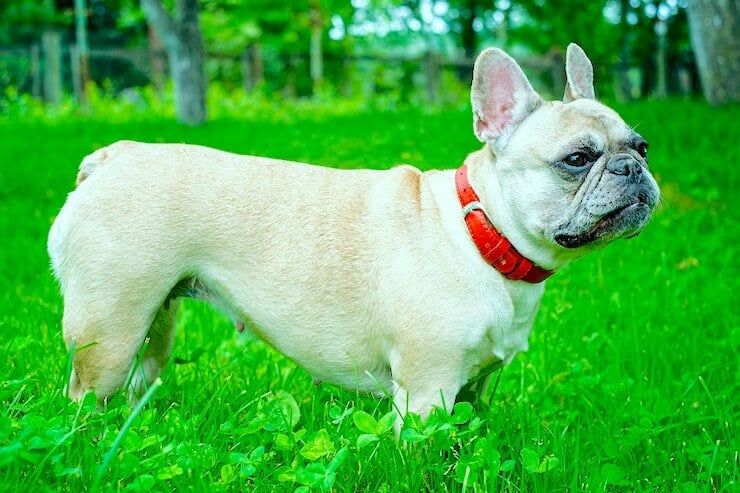 Should you consider a dog collar and matching leash?
When browsing different products and collars online, you are sure to find little sales pitches encouraging you to purchase the collar with the matching leash. Some brands will offer this and others wont. This is worth considering for two reasons. First of all, a matching leash will look great and offer a greater sense of style when taking your dog for a walk. If that leash truly does match then it should also be made from the same quality material. Then there is the issue of cost. Some brands may offer a deal where you can get both items together at a fair price. This could be helpful for those already concerned at some of the prices on these high-quality leather dog collars.
How to measure your dog to make sure they have the best leather dog collar possible.
The negative comments on some of the leather dog collar reviews show that there are often issues with the fit of the collar. Some dog owners may assume that they need a medium because they have a medium sized breed. This isn't always the case. The first thing to do is to measure your dog's neck with a tape measure. Make sure to leave two fingers under the tape for a little extra room and comfort. This should give you the ideal size you need. From there you can look at the specifications to find a size that matches. The best collars are adjustable so you can alter the fit of the sizing is a little off. If your dog's neck size is between two sizes, try and get a product with a good returns policy.
What have we learnt about finding the ideal leather collar for dogs?
There is a lot to consider when choosing the best leather dog collar for your pet. The first consideration is the choice between the normal and personalised options. Personalised collars do offer a little more security and a unique look. Choose the method of engraving carefully. Normal collars can still have room for a dog tag and have a more elegant style. Think about the colour and effect on the leather.
There are lots of different models out there when searching for the best leather dog collars. You are sure to find plenty of attractive collars in pretty designs. But, don't get too hung up on the look of the collar. Make sure that this is something that is suitable for your dog. It has to be strong enough to handle their behaviour on the leash. It also has to be durable and offer a comfortable fit. In the end, your dog will probably have the final say.