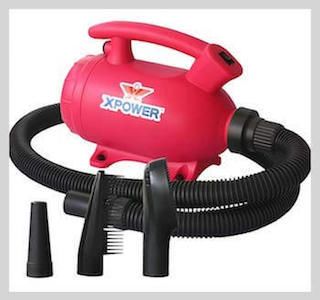 Dog grooming can be a long, difficult process with some animals. It all depends on their coat, their health and if they are show dogs.
There are some family pets that can get by with a quick brush now and then because they have such short single coats. If they get wet in the rain a good shake and towel dry will suffice.
However, there are thick coated and double coated breeds that may need a little more help. This is especially true if you are looking to show the dog and need the coat to be at its absolute fluffiest. This is where you may need to start looking out for the best dog hair dryers on the market.
In this guide will we discuss the top hair dryers with their pros and cons from some of the leading options available. We will also provide a buyer's guide with useful tips to help you with your choice. This includes the key features to look out for with a best dog hair dryer, but also tips for using them. Before that, lets look at our top pick and budget pick and why you need a designated dog hair dryer for your canine companion.
Our Top Pick
Flying Pig High Velocity Pet Hair Dryer
This Flying Pig dog dryer is our top pick because it is able to blend a professional approach with a user-friendly design. There are few products that give the power and performance of a professional groomer's dryer with the easy-to-use controls and features that dog owners need. It is quick and powerful enough to handle all kinds of coats but still gentle enough not to scare dogs away.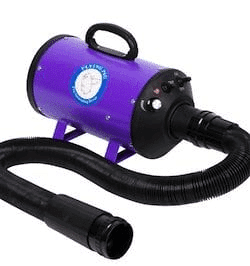 The Best Dog Hair Dryer : Our Top List
IMAGE
NAME
DETAILS
1. Flying One Dog Hair Dryer

Type:

High Velocity

Features:

10 ft. Hose, 2 Different Nozzles & Filter, 28000 FPM Speed

2. K-9 III Dog Grooming Dryer

Type:

High Velocity

Features:

10 ft. Hose, 2 Filters, Steel body, 2 Speed

3. Shernbao Professional Hair Force Dryer

Type:

High Velocity

Features:

10 ft. Hose, Dual motor, 2 filters, 2 Speed

4. Free Paws Pet Hair Dryer

Type:

High Velocity

Features:

7.9 ft Hose, Nozzles, Filter, Glove, 4921 - 11023 FPM Speed, 8.2 ft Power Cord

5. SHELANDY 3.2HP Speed Pet Hair Force Dryer

Type:

High Velocity

Features:

73 inches Hose, 4 types of nozzles

6. XPOWER Cage Dryer

Type:

Cage Dryer

Features:

3 Hoses, Hose kit, 3 Adjustable speeds, Heat free

7. Master Equipment Dog Dryer

Type:

Cage Dryer

Features:

Quiet Operation, 4 Speed Options, Timer

8. Andis EasyClip Quiet Standing Dryer

Type:

Standing

Features:

3 Speed Setting, Air Filter, Cool-shot Button, Nozzle, Stand
Why do I need a dog hair dryer for my pet? Can't I just use a human hair dryer instead?
This is a common question, and an understandable one for those that want to save some money. The simple answer here is that a human hair dryer isn't made for use on dogs. For a start, this small, handheld device is made for quick blow-drying experiences on a small amount of hair. They can't always handle the needs of large dogs and thick coats. They are also much too hot. Dedicated dog hair dyers can generate the right heat across a larger area of the coat. Many also have particular attachments and noise-reduction tech to make them more pet-friendly.
Budget Pick
SHELANDY 3.2HP Stepless Adjustable Speed
This Shelandy dog dryer is a great pick for those that have a limited budget. The device takes all the best parts of top dryers – such as the variable speed, multiple attachments and flexible hose – and adds them to an affordable model for at-home use. This is a combination blower/heater so you can still dry and style the coats of smaller breeds in a short amount of time. As long as you don't expect a "professional" performance from this machine, you should still find that it offers a lot of value for money.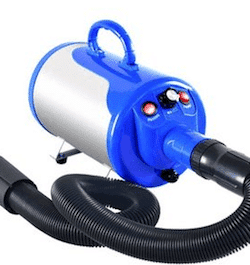 What types of dog hair dryer are available?
There are three different types of product that we will discuss in our dog dryer reviews below. It is important to understand what each type means so that you can have a better idea of which model to get. The three categories are following:
High velocity: A high velocity dog grooming dryer is perhaps the most popular and recognisable of the dog hair dryers. These are the ones that look as though you are preparing to vacuum the animal, not dry its hair. They have canisters with powerful motors, long hoses and a series of attachments. This design should provide the power and settings needed for a great result. They can be noisier, but are great for dogs trained to use them.
Cage Dryer: A cage dog blow dryer is a small, more portable option where the motor blows air from a wide outlet at the front of the system. It is a handheld option – even though this can get a little heavy in the wrong product. The cage name refers to the cage over the vent. This offers some safety for the animal so they can't get their paws trapped.
Standing Dryer: A standing pet hair dryer is basically a more recognisable hairdryer – much like our own – that sits in a stand. It is, therefore, possible to angle these dryers to blow air at the dog in a hands-free manner. Some of these products are better than others. There are brands that have doggy dryers with accompanying stands that are reliable. Then there are those that are just the stand for another dryer. The latter encourages dog owners to fix their own hair dryer into this system, which isn't a good idea. This standing dryer is more common in professional set-ups because of the space required.
Top 8 Dog Hair Dryer Reviews
The following products are some of the best selling dog blow dryer models around. We have chosen options within those three key categories of high velocity, cage and standing. Some of the highlights from these reviews are here in this table for your convenience.
First up is a high velocity dryer from one of the most popular suppliers on the market. Flying Pig specialise in dog grooming equipment and have a number of top-rated dryers. This is a top seller with a great look and positive feedback.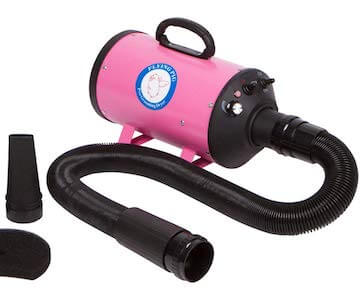 This looks a like a canister vacuum and is not too intimidating. It has a heavy duty motor for long term use, a 10ft flexible hose, an air volume of 240 cm two different nozzles for different coat types, and comes in some fun colours with purple, green and pink.
Things We Liked
First all of, there are many users that say that this machine is able to cut drying time in half. This is great for larger pets and is likely due to the temperature settings between 81 and 160 Fahrenheit.
Others like the fact that there is a gentle acceleration in the motor, so as not to scare dogs too much.
There are also two different nozzles that come with this system for different coat types.
Things We Didn't Like
There are some issues with the weight of the hose and nozzle, which is a problem for longer jobs.
There are also comments about the hose detaching while in use.
This next model comes from K-9 dryers and packs a punch when it comes to delivering high heat at high power. There are two motors with variable dials designed to enhance the performance and "cut drying time in half" compared to other canister dryers.
It comes with a long, flexible hose, a long cord that wraps around the top and a choose of nozzles for the end. There is also a surprising array of colours to choose from – in case you don't like the more traditional blue.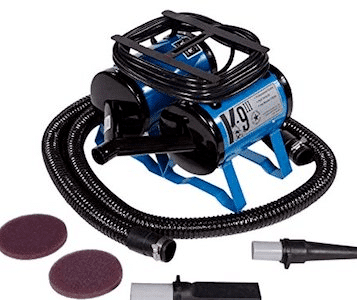 So, why isn't this our top pick if it is so effective and fast? The simple reason is that it is a little too "industrial" for everyone. There is great potential here for use in grooming parlours and at home. But, the Flying Pig option is a little more user-friendly.
Things We Liked
If you want a fast drying time then this is a great option. Some users say it does the job in as little as 3 minutes.
The power of the dual dryer combined with the attachments means it is great for a lot of coat types – including huskies.
You can opt for just the one motor for delicate jobs if needed.
Things We Didn't Like
This is a heavy-duty model with a lot of power and controls that aren't as user-friendly as some had hoped.
The air gets hot very quickly so owners need to be careful it doesn't distress their dog.
Our next model gets the 3rd place position because while it isn't as powerful and professional as the ones above, you still get a lot for your money. One of the things that is most appealing about this product is the idea that they thought about the animal as much as the owner.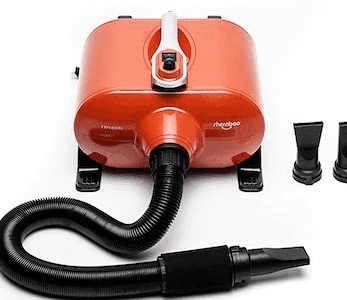 They have added an adjustable speed dial to minimise the noise produced and keep nervous dogs calm. At the same time, it can be powerful enough to dry larger dogs in a short time frame – so they aren't left hanging around impatiently.
Humans will appreciate the little details of this blower as much as their dogs. There are an integrated carry handle, simple dial and a choose of nozzles and filters for the hose. There is even the option of buying a compatible stand.
Things We Liked
Buyers love the user-friendly design with the placement of the switch and the handle.
Most also say that it works well as an at-home solution because of the power of the blower.
There are few complaints from the dogs too because of the lack of heat or noise.
Things We Didn't Like
The biggest problem for the user is the lack of a heating element to the blower, as they feel that this lower the impact of the blower.
Some would also prefer to see a longer, more flexible hose to access all areas of the coat more easily.
This model has been singled out here because it is currently an Amazon's Choice model for high velocity dryers. In some ways, this option is pretty similar to the one above, there is a long flexible hose that reaches 7.9 feet, adjustable speed and temperature settings (with a maximum temperature of 167 Fahrenheit) and plenty of nozzles. There is also a bright colour – this time in yellow.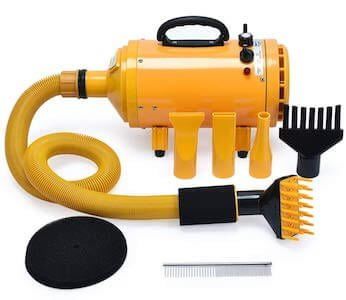 Things We Liked
One of the key benefits here is the patented nozzle with the holes and comb. this is meant to reduce the drying time and style fur more easily. The unique patent means you wont find this elsewhere.
There are lots of variations available with the different settings and features.
There is also a great performance with nice results on different coats.
Things We Didn't Like
The comb doesn't suit everyone, and some say that it doesn't transfer heat as well as some other nozzles.
There are some occasional faults with it overheating.
Our next choice is our budget pick. When you look at this device, you might think that it looks like a cheaper version of the Flying Pig. This is understandable because you have a similar canister shape with the flexible hose at the front and the handle on the top. But, the use of plastic and the construction do make it appear less durable.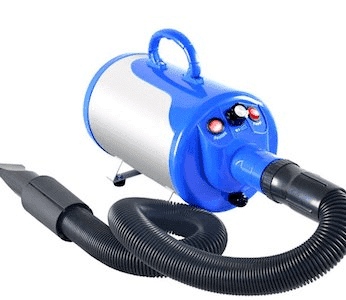 This is a much cheaper option at well below $100. On the plus side, you do get a lot of accessories for your money. On the downside, it just isn't going to be as powerful and effective as the Flying Pig. It is fine for at-home use and smaller breeds but nothing professional.
Things We Liked
For that small cost, you get a great selection of nozzles to help you style and dry the fur.
It is quiet and gentle enough for nervous dogs, partly because of the noise reduction filter and adjustments.
It does all this while still offering variable heat and speed settings that are more powerful than some users expected.
Things We Didn't Like
The best results are seen on small dog breeds and large cat breeds. Those with larger, fluffier animals may struggle.
The construction of the plastic support and the connections is weak – but to be expected at this price point.
Moving onto the cage designs, we have another Amazon's choice option. This is a handheld model with a wide cage and strong air flow through the vents. Everything comes together in a nice compact design with the bright blue casing. There is even a little kick stand to help users angle the dryer from the floor. Yet, there is still the sense that this is a powerful capable machine.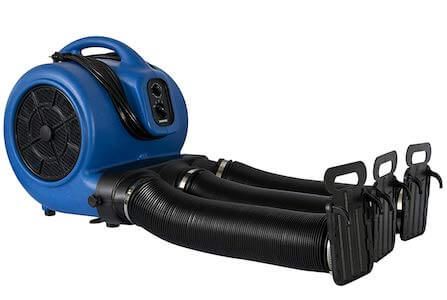 Things We Liked
The first benefit here is a good shape and lightweight for ease of use on long jobs. It only weighs 24.1 pounds.
There is a long 25ft power cord for easy access that also has a dedicated cord storage around the top.
There are simple 3 speed controls on the front up to 1600 rpm for added ease of use.
Things We Didn't Like
Some users don't like the lack of temperature in the cool air settings and prefer the effect of other models.
Some also say that the motor it is weaker than that in some the competition's devices.
The design of this model shows that there is a definitely blueprint when it comes to the designs of the best model. There is the same rounded shape with the big air vents on the side, the carry handle on the top, the wide cage and the dials on the front. There isn't much else to say about the design because this is so similar across the different brands.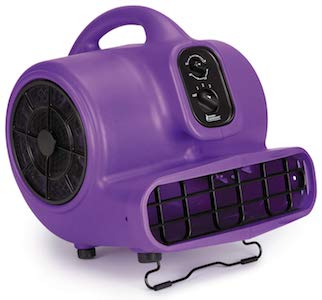 Things We Liked
This option is a little more interesting in terms of the settings because there is an additional programmable timer. This means that it can run for up to 3 hours at one time.
There is also the promise that it is a quieter model than other types of dryer, and there are few complaints in that department.
There is also a good air flow at 2,000 cfm.
Things We Didn't Like
Once again, there are those that have problems with the cool air instead of warm air, but again that is down to the type of dryer not the model.
The adjustable rubber feet may not be a strong or durable as the kickstand in the model above.
Andis is a great brand to turn to here because they are so reliable when it comes to the different grooming products in their range. This model is something a little different that will either appeal to dog owners or prove to be ineffective for their needs.
The hair dryer element is pretty similar to that of human hair dryers. There is a long thin appliance with a tapered nozzle on the end. This sits on an adjustable stable with different angles.
Things We Liked
There is a sturdy base with rubberised feet to help keep it in place on the floor – or other surfaces.
There are different speed settings and heat settings as needed for different grooming needs.
There is enough flexibility in the adjustable dock for the hairdryer.
Things We Didn't Like
This model is not powerful enough for everyone and some definitely prefer the more powerful high velocity models above.
Many find themselves removing it from the stand quite often for ease of use, which defeats the purpose a little bit.
What should you look for when searching for a professional dog hair dryer for your pet?
The reviews above show that there are a few different features to consider when comparing your options. Regardless of the style of dog hair dryer, you need to consider these features to ensure that animals get the best results and experience. They include:
The speed and temperature settings
The best models in dog hair dryers have a series of settings on the speed of the motor and the temperature of the air. This can vary between products, but this should be the case whether the dryer is a high velocity, cage or standing dryer. This change in speed settings means that you can calm the dryer down with more nervous dogs. Or, you can get a quick blow dry in a hurry if you turn it up. The temperature controls are helpful when working with different types of coats. In all cases, these settings should be easy to control via a dial on the front of the device.
The attachments
Attachments are far more likely with the high velocity models than the others. Here brands provide different nozzles to attach to the end of the hose. These nozzles can help when styling the fur for shows, or speed up the process on different types of coats. The cage dryers don't have this option. This is more of a one-size-fits-all approach with the wide, caged outflow. The attachments on the standing dryers will depend on the brand. Read the specification to learn more about the options available. Also, read users reviews to see if those attachments actually work.
The shape and weight of the hair dryer
Shape and weight isn't such an issue with a standing dryer as this is designed to be used on the floor. The base needs to be sturdy, but there isn't the same importance in regard to ergonomics and handling. Cage dryers are different. They need to be easy to handle and pick up, with that handle on the top. They also need to be light enough that users don't get wrist fatigue. Weight is also important with the hose on high velocity models.
The power supply
This isn't a dog product where we get to choose between a cordless or corded approach. There is no way that a cordless model would provide the long life and power needed for this sort of process. Still, you can look at the motor generating the wind speeds within the devices, as well as the length of the power cord. A short cord won't offer much freedom of movement.
The noise produced
Noise is a big concern with these appliances. Our own hair dryers can be pretty loud and high pitched themselves. Dogs, with their sensitive ears and hearing, won't appreciate this sort of consistent whining noise as they are groomed. There are some great products that promise to be whisper quiet to avoid this issues. Again, it helps to look at user reviews to better understand the level of noise and the reactions of the dogs.
The build quality
If you want a professional system that will last a long time, you need to be sure that the product is well made. As we saw with some of the downsides of the products above, these machines can develop faults. It is possible that the hoses may crack over time, or that the motor overheats. Others may show issues straight away, such as attachments that don't fit properly, loose screws and other careless faults.
FAQS on dog hair dryers
1. Is there a big difference between a professional quality dryer and at-home dryers?
There are dryers that are large, heavy-duty items for a professional groomer. There are also low-grade budget models for dog owners. Then there are those that fit nicely into the middle. It is possible to find a manageable system that works well at home that still has a professional-level performance. There is no need to pay too much money for an intense dryer when mid-range options work just as well. This need can also depend on how many animals are in your care and the frequency of use.
2. Can I use this dryer when my dog has a blow out of their coat?
This is a great question because it highlights the versatility of some of these products. Doggy blow dryers aren't just there to dry and style a dog's fur after bathing. The blasts of air, especially on the cooler settings, can also help with other grooming needs. Dogs with thick double coats shed massively at different times of the year. This blow-out is easily managed with a big grooming session where owners brush out all the dead fur in the undercoat at once. A blow dryer could help here.
3. Why are the temperature settings so low on some of these products?
On the subject of those cold blasts of air, there are some pet owners that wonder why their pet hair dryer is so cold. We are used to drying our own hair at very high heats for a quick result. We often overlook the fact that this isn't very good for the condition of the hair. Cooler settings on these dryers help to protect the dog's hair and skin. We want our pets to be as comfortable as possible during this grooming process.
4. Are these big devices too scary for dogs?
This idea of the comfort of our animals leads us to this important question. There is a good chance that these large machines will be scary to dogs at first. There is a lot to get used to with the warm air, the attachments in their fur and the noise. Also, regardless of the pretty colours, this is still a big, foreign object. Training and reassurance can help, and we will discuss that a little more below.
5. Are they difficult to use?
Ease of use will depend on the product, the behaviour of the dog and the experience of the owner. There are some products that are easy to learn and use, and will provide quick results with no fuss. Others may be a little more fiddly and have a bigger learning curve. That is why it is important to look at how to use these items before you test them out.
How to use a dog groomers dryer
The first thing to consider when learning to use a dog hair dryer is where you want to dry their fur. Some people will immediately set this up on the kitchen floor for the space. But, there are many at-home dog groomers that recommend doing this outside. That way you don't have to worry about the fur flying around and cleaning up. Plug in the dryer and place it on the lowest setting while you get started. Work on the coat with the right temperature, increasing or decreasing as needed. You don't need to have the hose too close if the air flow is sufficient. Work your way through the coat, brushing longer hair to avoid tangles.
While working on the dog, make sure that they are comfortable at all times. Be careful which way you aim the hose, especially around the genitals and face. A sharp blast of air here could be unpleasant. Give your dog time to lie down or walk around if they get stiff or tired. Also, have water and treats on hand if the session gets quite long.
Training dogs to have their hair dried with these machines
As we mentioned above, there will be some dogs that are a bit wary of having their hair dried in this manner. It is possible to train your dog, just as you would with other grooming experiences or unfamiliar devices. Whenever we have a new dog nail grinder or dog hair clipper, we need to make sure that the animal is happy and understands what is happening. The same is true here.
It helps to take your time. Let the dog have a sniff of this new machine for a while. Then you can turn it on at the slowest, coolest setting. Let them get used to the blow drying process and attachments without too much heat and noise. You can then work your way through the settings as they get more comfortable. This means that they aren't suddenly faced with a high pitched noise they don't recognise. Remember to keep up with the positive reinforcement and treats whenever the dog is calm and cooperative with this dryer.
What have we learned about finding the very best dog grooming dryers?
The products that we have highlighted above show that there are plenty of different styles and many high-end products out there. There are some powerful high velocity models that have the attachments and temperature for a great performance. Make sure to find one with the right settings and a good build quality in the hose. Then there are the cages that are easier to handle and store. These options can have a surprising amount of power and enough settings for a great session. Make sure to check the heat, noise levels and the weight of these models. Finally, there is the option of the standing dryer. This isn't as popular or practical, but can help users in the right setting. Make sure to check the adjustments and compatibility for doggy dryers.
Whichever style of dryer you choose, make sure to research products and options carefully. There are many shared features between different cage and high velocity models. Yet, there are also subtle differences in the specifications. Read the details and the user reviews to understand the products a little better. Once you have your machine, also make sure to take the time to learn to use the dryer properly and train your dog. This extra effort will all be worthwhile in the long run and ensure that you find the best dog hair dryer.