As dog owners, we can often feel overwhelmed with the amount of options available in the dog food industry. We can all agree that we want to do what's best for our furry friends, and feeding them nutritious and tasty meals is usually at the top of that list.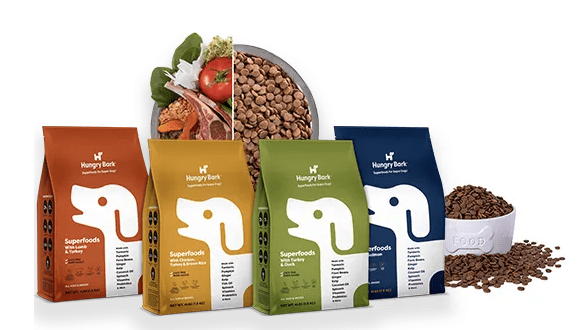 Along with exercise and regular veterinary care, a proper diet is a main factor in ensuring your dog has the best quality of life. When it comes to choosing the right option for your dog, there is a lot you need to take into consideration. What are the ingredients, how much does it cost, does it work with your lifestyle and where can you get it are just a few areas to consider.
But one thing that often gets overlooked is what your dog ACTUALLY needs!
Is your dog young with high energy, or maybe a large breed senior with joint issues?
Are there allergies you need to be mindful of, or certain health concerns that are associated with a specific breed?
People can choose whatever diet works best for their own needs, and it's got a lot of pet parents thinking about why can't they do the same for their dog?
This is where Hungry Bark comes in. What sets Hungry Bark apart from other dog food options is they provide free custom nutrition plans for your unique dog! By completing a quick assessment, you'll enter your dog's information like age, weight, breed, health concerns, allergies and preferences and you'll get an easy to follow guide that includes a meal, supplement and protein mix-in. These plans are designed to be tailored to your dog specifically, so you can feel good about what you feed your pup!
While most dog food companies sell fresh food that needs to be refrigerated or frozen to stay fresh, Hungry Bark realized that it's simply not practical for the majority of dog owners. They found a way to improve the food quality in your beloved dog without making you go broke or filling up your freezer.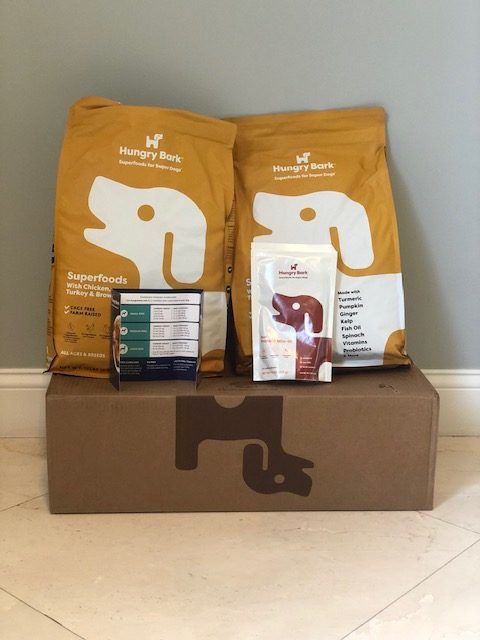 This brand was sparked after the founder, a serial entrepreneur named Nick Molina, went through an overall wellness epiphany of his own just five years ago. He saw a nutritionist and learned the importance of what goes into your body effects how you attack the obstacles that surface in every day life. Realizing how much better he looked, felt, and went through life, the dog lover in him realized an opportunity in the pet food space and decided to work with veterinarians to create high quality kibble, mix-ins, and supplements made with real animal protein and other nutritious ingredients.
As a highly consultative brand, you are initially met with their now famous "pup quiz," which will allow you to fill out a profile for each of your dogs. This information will lead you into the recommendations that your dogs will need based on the issues you identified. You also have the choice of buying one of their already made formula's designed to help your dog live his or her best life!
Every product is vet-approved and contains superfood ingredients and real animal proteins like duck, turkey, lamb, and chicken.
Hungry Pet Nutrition CEO Nick Molina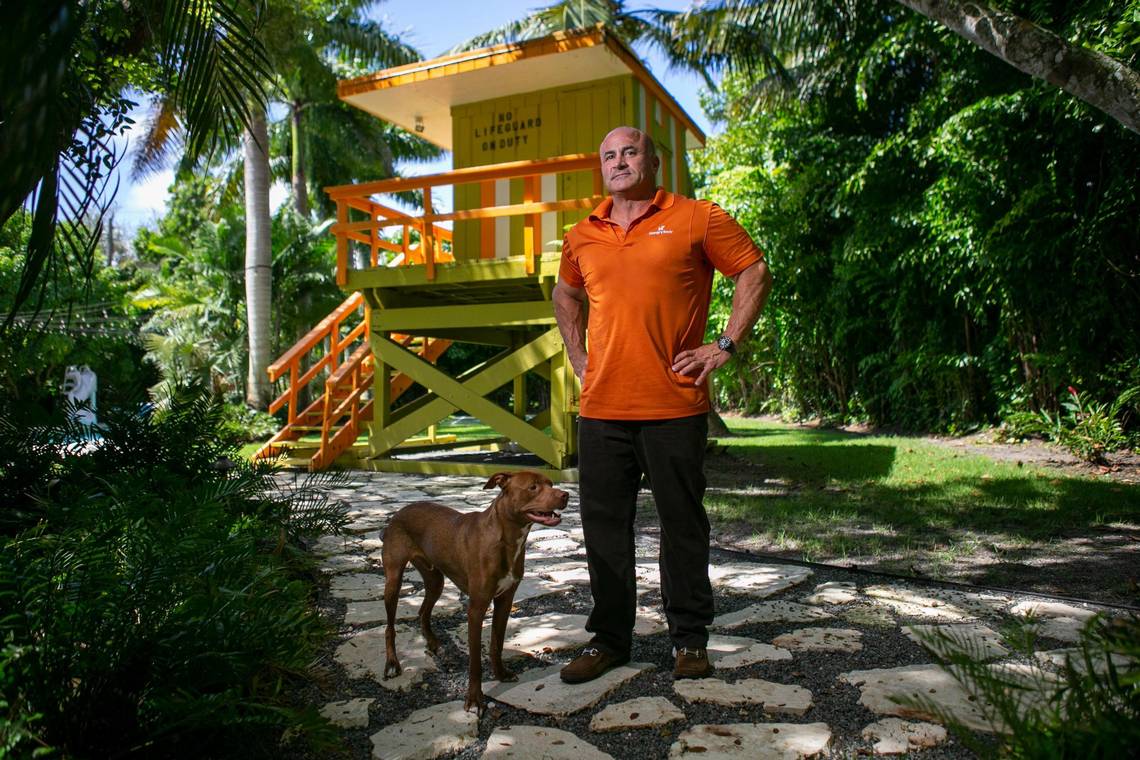 They also offer single ingredient protein mix-ins that add protein and flavor to your dog's diet in an all natural formula. Lastly, they make various supplements that offer additional support for your dog's joint & hip health, anxiety, and digestion. Oh, and the company not only offers incredible customer support, but they also give back to dogs in need by working closely with local rescue organizations and shelters.
"I realized that while human nutrition had advanced leaps and bounds over last couple of decades, pet nutrition has remained unchanged since the '50s," he said. "Having gone through a personal health transformation, I was very in tune with what it took for me to do that."
-Founder Nick Molina
Keep reading to see why these recommendations were "spot on" in the case of our four dog testers.
Hungry Bark Reviews Are In!
Four of our dog parent writers gave this brand a test drive after taking the "pup quiz" and the HungryBark premium dog food was promptly delivered to each of us. Having different breeds of dogs, we expected varied results. However, the overwhelming sentiment among the four of us was that the dogs absolutely devoured the kibble!

Below is a sample of one of the orders we made in an effort to see how well the "custom nutrition plan" worked. There was a special offer running and we took full advantage as you can see!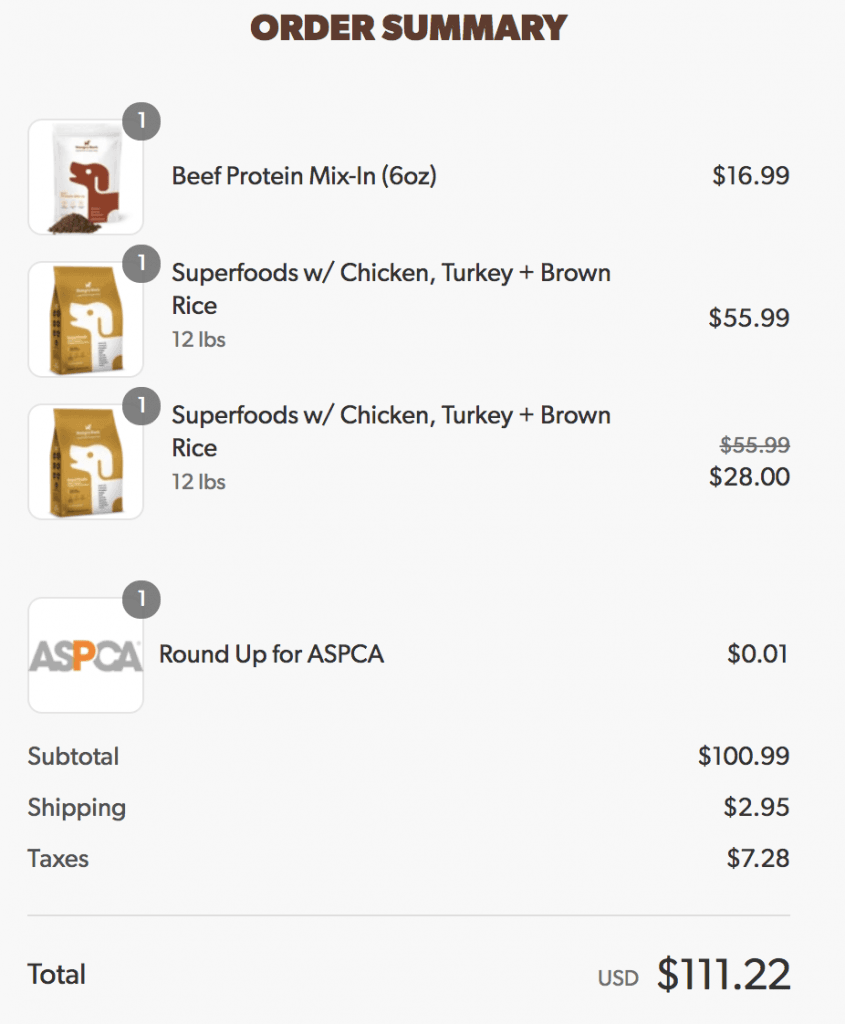 We gave the Hungry Bark Brand an "A+" rating, here's why:
Cost:
Everyone's situation is different, and it's important to find a dog food option that works with your lifestyle and budget. The cheapest options on the market can often lead to long term health problems, combined with a history of recalls, it may not be the best choice for your dog over time, even if there are immediate cost savings. Balancing your dog's health and your personal finances can seem like an insignificant consideration, but when you are faced with vet bills that can get into the thousands of dollars, investing more into your dog's health early on can be a wise decision for both of you. Hungry Bark offers a subscription program where you can save 20% on your first order, and 10% off each following subscription. Price comparisons to other premium and veterinary brand kibble makes Hungry Bark an obvious choice based on the ingredients and quality of the products. Hungry Bark kibble starts at under $1 per day, with full nutrition plans including a supplement and mix in for just under $2 per day. Multiple dog owners especially love Hungry Bark because it allows them the flexibility to easily rotate between kibble recipes and adjust their subscription frequency and quantity as needed.
Convenience:
There is plenty of debate in the dog lover community about whether it's best to feed raw or dry food. One thing that cannot be denied is the convenience and accessibility of dry dog food versus raw. Storage and preparation are significant factors in addressing whether a raw diet is right for you and your dog. Traveling with a dog, doggie day care, training camps, and needing a dog sitter to figure out your dog's raw feeding schedule can be cumbersome at best, and impossible at worst. With Hungry Bark, you're still able to feed your pup a wholesome and nutritious meal with real proteins as the first two ingredients, while having the flexibility to to travel and store the kibble with ease. When it comes to shopping for dog food at the store or even ordering online from 3rd party platforms, there can be issues with products being in stock, delivery delays, and overall inconsistency in being able to access the exact brand and recipe you need for your dog. Hungry Bark works directly with their customers, owning the process from production to fulfillment, so you always know you'll get your satisfaction is their number one priority.
Hungry Bark features more than 66 billion probiotic microorganisms. This simplifies the transition for your dog to consuming a new pet food.
If you are looking to slowly introduce your dog to a new food, follow these feeding guidelines:
If your dog gets an upset stomach, simply go back to the first day's portion and gradually transition your dog to Hungry Bark over a longer time period.
Where is Hungry Bark Manufactured?
Hungry Bark premium kibble is manufactured in the U.S.A. and tested by ISO-certified labs to ensure everything is safe and of the highest quality. Every recipe was made under the direction of a world class team of animal nutrition experts and veterinarians, which can all be seen on the Official Hungry Bark website for full transparency. The carefully sourced ingredients are mostly from the U.S. but also have some that arrive from Europe, New Zealand, and Australia.

Hungry Bark Packaging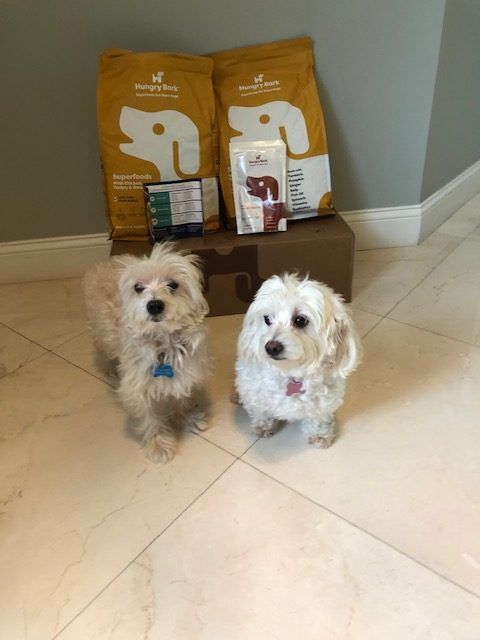 I read on another blog that Hungry Bark packaging looked like the designer brand "Louis Vuitton." If you look at the box, it does have that exact same color scheme with a repeated pattern and HB logo which tells you how much thought went into this brand. It's very simple to ship items in a generic box, but they go the extra mile by shipping everything in a custom Hungry Bark box complete with a bandana for your dog and even a plastic scoop for the food. Talk about a world class customer experience! I was blown away the first time I opened up my shipment to do my Hungry Bark review and saw all of this neat stuff that additionally came with marketing brochures that outlined everything I needed to know about serving sizes and frequency.
The packaging the actual kibble arrives in uses Ever Fresh locking technology to assure you that your dog's food will always remain fresh! It's highly durable and made entirely of recycled materials.
Feeding Guidelines
Portion Guidelines
To figure out portion sizes, simply divide the daily amount of food consumed by the number of times your dog typically gets fed.
Puppies
If you have a puppy, it's advised that you may need to feed 2-3 x the daily amount suggested to adult dogs.
Lactating Females
Please consult your veterinarian.
Overall there is a lot to consider when finding the right dog food, and ultimately it's up to you to decide what's right for your dog. However, based on industry research and personal experience, Hungry Bark has been leading the way in providing accessible quality products for dog lovers across the country. Why not take advantage of the free custom nutrition plan and see how your pup could be benefiting today?
Getting Your Dog a Customized Diet Plan
Perhaps our favorite part was the ease of getting a diet recommendation for our dogs. Follow these very simple steps to get your own plan, FREE of charge, whether you order Hungry Bark kibble, or decide it's not for you. (Which the latter would be a mistake – scroll down to see the pure happiness our dogs feel after eating this kibble.)

Answer questions about your dogs age, sex, breed, activity level, and weight

Answer questions about any allergies they need to be aware of (or indicate "no")
List any food preferences your dog has
Choose to have grains, or go grain free
List any health issues you are looking to address
And just like that a recommendation will be populated on a new page. You'll see the entire plan of attack to address your dogs needs along with a full analysis and ingredient decks of the recommended food. They even break down your weekly cost to switch to Hungry Bark!
HungryBark for Picky Eaters
While it's great to find a nutritious and high quality dog food that YOU feel good about, it doesn't mean much if your dog won't eat it!
Dogs are as unique as we are and they have their own preferences as much as we do. Whose dog doesn't have a favorite toy or special activity they get extra excited about?
The same can be said about what they eat, and those dog parents with especially picky eaters can certainly empathize with the struggle of finding a dog food that's good for them and that they'll eat on a daily basis.
With 4 unique recipes and a variety of flavor combinations, there is sure to be something that your dog will enjoy. Their formulas include many superfood ingredients which aren't always found in other kibble brands, along with real proteins as the first and second ingredients, it makes for a combination that's irresistible to our four legged friends. The best part is they offer a 100% money back guarantee, so you can try it risk free. An added benefit you get by choosing Hungry Bark are the Protein Mix-Ins, which pair perfectly with the kibble. The Protein Mix-Ins offer added flavor and nutritional value, giving your dog more variety with every meal.
Conclusion – Why Buy Hungry Bark?
Much like humans, a dog can get sick and feel less than optimal if he or she is consuming low quality dog food. Sure, you may feel like you are saving yourself some cash when you buy dog food, but over time you'll more than make up for it when you are taking your beloved dog to the vet and forking out hundreds of dollars to treat illnesses or solve problems you can't figure out. Let's not even get into longevity – if you care about your dog you should really invest in the best in food and supplementation to ensure a long life span and quality life, and I feel Hungry Bark provides you with that best option due to it's nutritional value and attention to quality ingredients.
Additionally, quality dog food will help your dog with the following:
Improved digestion
Lower stool production and less odor (due to high quality ingredients)
Shiny coat
Less shedding
Additional energy
Optimal for weight maintenance
Oral hygiene
Urinary health
Always feed your dog the best possible food to ensure long term health, safety, and happiness. They say a picture is worth 1,000 words, so what does this tell you?