The PetSafe Stay and Play is designed for the more determined escape artists. It adds more intensity than PetSafe Pet Containment System model. It is suited for those dogs who need a little extra incentive to stay in their yards.
The Stay and Play is also suitable for any size dog because you can adjust the settings. With no wires to worry about, this wireless system is easy to install and portable. Set up is easy, and you can take it with you anywhere you and your dog travel.
What's in the Box
Your purchase will come with everything you need to set up this wireless dog fence. The components include a transmitter with a power adaptor. It also includes one receiver/collar. You can purchase additional collars separately.
Along with the collar is a charger with an adapter so you can charge two collars at once if need be. The collars come with short and long contact points to accommodate dogs with different thickness levels to their coats. The contacts points come with a wrench for installing. Other components include boundary flags, a test light tool, and a training guide. Check out our top list of best wireless dog fence 2020.
Here are the following features included: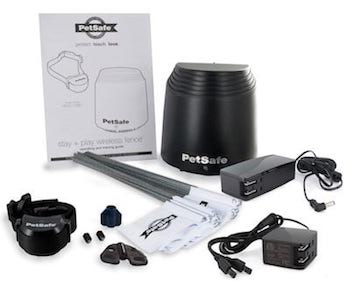 Transmitter

Power adaptor

Receiver/collar

Boundary flags

A test light tool

And a training guide
Click here to check all features & price on Amazon
Limited Warranty
Any PetSafe fence comes with a limited lifetime warranty. The company will cover your fence for the first year. After a year, they offer a discount on any repairs you may need as well as replacement parts.
System Features
This wireless system by PetSafe has several attractive features, including:- Adjustable correction levels- Adjustable boundary- Low battery warning- Portability Adjustable.
Correction Levels
This wireless system has five levels of correction. This means you can program the correction level through the receiver collar. The best part is that you can add as many dogs to the system as you need to. You will need to purchase and program an additional collar for each dog.
Adjustable Boundary
The boundary diameter has a broad range of 44-210 feet, and you can adjust that to fit your property. That's pretty good coverage, coming in at three-quarters of an acre. You can buy an additional transmitter if you need an even larger area covered. The system has a built-in low battery warning that lets you know when the battery in your dog's collar needs to be replaced. The collar also has programmed protection against overcorrection, so your dog won't get a correction that goes over 15 seconds.
Portability
As already mentioned, this system is portable. You need only take the transmitter, collar(s), and marker flags with you to your destination. Once you train your dog on the system, he will recognize the markers and know where the boundary lines are.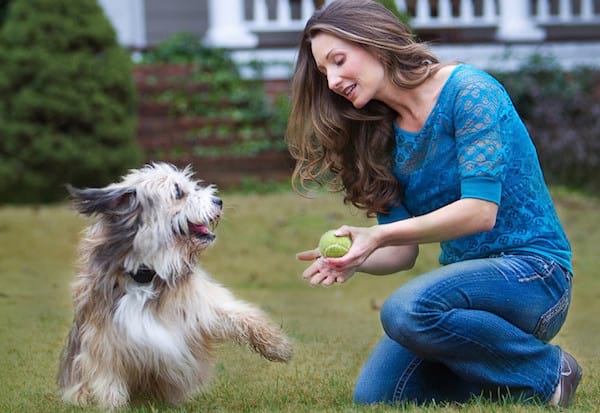 Benefits Of The Stay and Play Wireless fence
The Stay and Play system has some definite advantages over PetSafe's earlier models like the PIF-300. This current model is more convenient, with a smaller transmitter and collar. The collar is small enough for dogs of any size, even those as little as five pounds.The Stay and Play is more portable due to its streamlined size and ease of setup. Because such a small unit can accommodate unlimited dogs gives it an edge over its predecessors.
Disadvantages
Despite all these great features, some users have reported issues with this wireless pet fence. Some of those issues include- Unstable boundary line- Rare cases of collar shocks- Occasional problems with the receiver collar. Some users report that the boundary line fluctuates after they program it.
This can be problematic while trying to train your dog to identify the boundary line using the marker flags. On very rare occasions, users have also reported that the collars sent random shocks to the dogs or otherwise malfunctioned. Compared to all the many positive reviews, these are minimal complaints.
Though, we thought it best to mention them to provide a balanced review.
Comparison with the PetSafe Containment System:
The Stay and Play is specifically for those harder-to-train dogs that require higher correction than most wireless containment systems offer. The system is the same quality you come to expect from other PetSafe systems, such as their standard Containment System. These two systems are compatible. For instance, you can add a Stay and Play collar to your Dog Containment System for a more stubborn dog.
Conclusion
In summary, Petsafe's wireless system for stubborn pups offers the same benefits and durability as all PetSafe systems. This one, however, if for the seasoned escape artist that requires additional correction. That, along with the extra-wide, adjustable boundary makes this an excellent choice for home or travel.