Is your dog getting old? Is he or she having a tough time chewing food when it's hard? Does your dog suffer from serious stomach problems? If you answered yes to any of these questions, it's likely a good time to begin giving your dog dry food containing soft pieces.
When the food is soft and simple to chew, your dog will have a much easier time digesting this food. It will also help his or her teeth stay in good shape for a longer period.And another thing… Dry dog food is convenient and easy to serve to your favorite furry friend when it's time to give him or her a meal.
As you can imagine, there are so many brands of dog food for you to choose from.
Even worse? It's very difficult to determine the top food for your favorite canine companion. Although, I've done the research and I've discovered the best dry dog food with soft pieces for your pup.
My top 10 list consists of the following options:
Yumwoof Perfect Kibble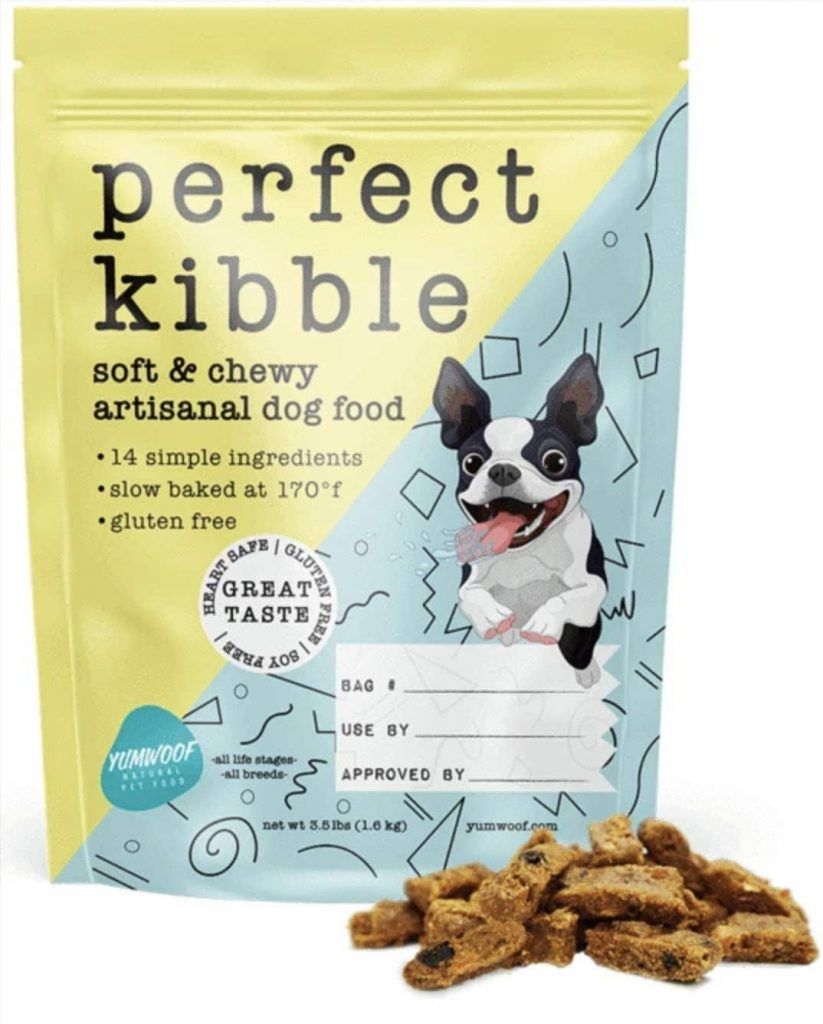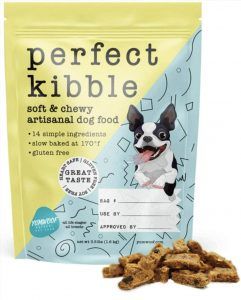 This delicious treat filled with soft dog food of a dry variety contains 14 ingredients that many people consider super foods. And each of these ingredients was made in a slow cooked fashion, which is the perfect way to preserve all the healthy nutrients and tasty flavors.

This is a great brand of dog food for pups that need chewy and soft food without refrigeration being a requirement.

The main ingredient in this tasty kibble from Yumwoof is meat, USDA grade and fresh.

But that's not all…

The recipe also uses coconut oil. Believe it or not, dogs experience lots of benefits from coconut oil including clean teeth, better brain cognition, speedy metabolism, and slowing down mental aging and dementia, among other things.

Open up the bag and take a whiff. This incredible recipe truly smells delectable. You'll want to stick your head in there and take a bite yourself!

One of the main smells is the odor of sweetbread, which is really desirable if you ask me. You'll love opening the bag and getting a hint of sweetbread whenever you feed your favorite pup.

The best part about this food is the way that they slow cook it.

This process makes it possible to retain the bulk of the nutrients within the food. And because this food is cooked perfectly, it's going to contain a wide range of minerals, vitamins, and antioxidants to boost the health and longevity of your pooch.

For every reason mentioned above and more, I am proud to recommend Yumwoof Perfect Kibble to my family, friends, and readers! Check out their website to learn more about their healthy doggie dinners.
Purina Moist & Meaty Dog Food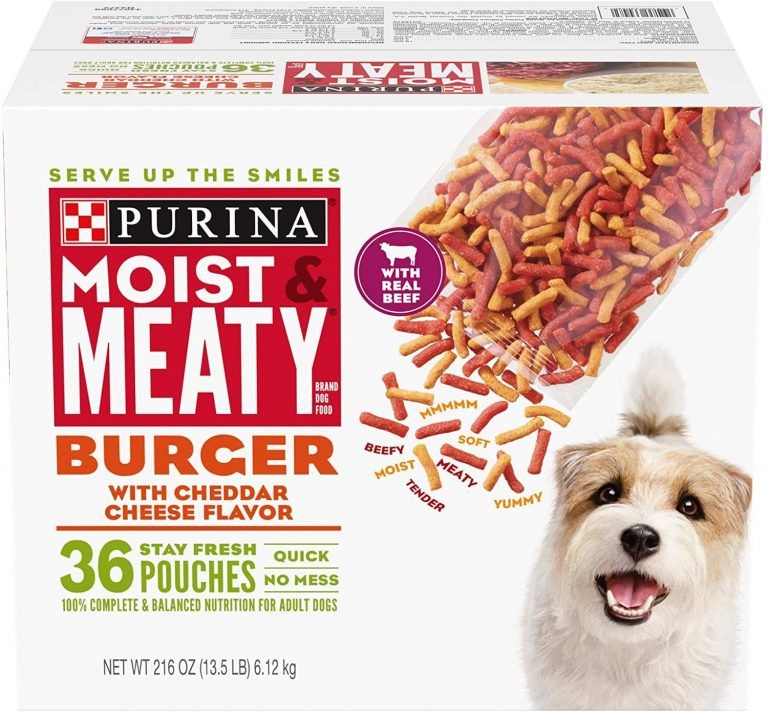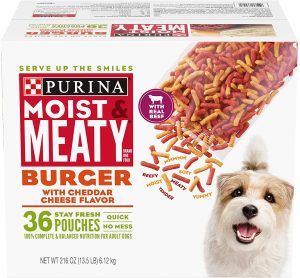 Next up is the Moist & Meaty Purina dog food that pooches far and wide seem to love.

Personally, I'm a big fan of this food because it's soft and easy for my older furry friend to eat.

Your dog will not have a difficult time chewing it either.

The ingredients contain real meat, so it definitely has a juicy taste to it and lots of protein to keep your pup strong.

Another thing is the packaging says the product is 100% complete. It claims that the nutrition levels are perfectly balanced for an adult dog.

Why is this important?

Ultimately, it's telling you that you do not need to add additional supplements to keep your dog healthy. The diet alone provides all the nutrients that he or she will need to remain strong and happy.

The food stays fresh all the time because it's available in pouches. All you have to do is open the pouch, serve it to your dog in a dish, and never worry about cleaning up a big mess again.

The food is already ready-to-eat within the pouch.

This delectable treat is made in the USA. You can use it as an entire meal for your dog, or maybe add it as a topper for different meals. The choice is yours.

Just remember that this is a good choice for dogs with stomach issues, whether we're talking about a brand-new puppy or an older senior.

The food is made up of soft pieces and has a moist texture. And finally, I'd like to remind you that it has lots of healthy minerals and vitamins within the real meat in the formulation.
Natural Balance Limited Ingredient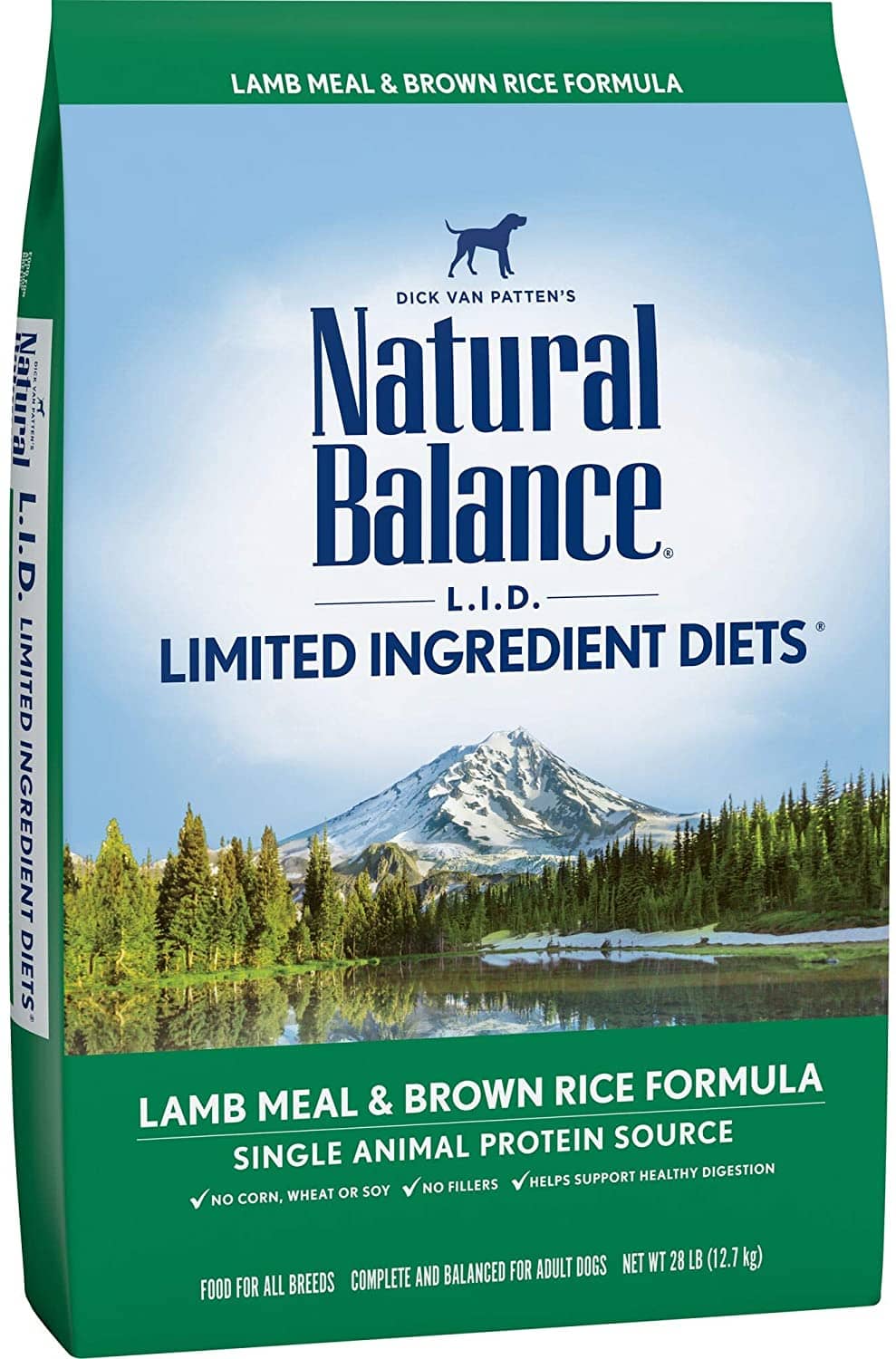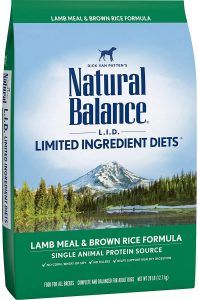 This exciting food from Natural Balance is a prime choice and perfect for our list of dry dog food with soft pieces.

What's so special about it?

The ingredients are minimal and all-natural.

You don't have to worry about it being filled with lots of unhealthy junk and unwanted preservatives.

It's great for canines and it's easy to chew and very soft.

One example of this food is the Sweet Potato and Fish Formula. This choice is great because it has a plethora of amino acids, which is healthy for building muscles and keeping them strong. And it's also jampacked with healthy carbohydrates, which means your dog is always going to have lots of energy no matter how old he or she gets.

And it has fish in the ingredients, which so many dogs love because it has such a great taste. Other flavors include duck and bison.

Natural Balance Limited Ingredient food for dogs is the right choice for adult dogs of every breed. It's a great option because it helps provide a healthy coat and skin and it even aids with easy digestion.

After looking over the ingredients, you'll see how this food promotes health and well-being. You'll sleep good at night knowing that you're giving your pooch great tasting food and good health all at the same time.

So please give this premium brand a try. Check out Natural Balance Limited Ingredient dog food right away.
Hill's Science Diet Dry Dog Food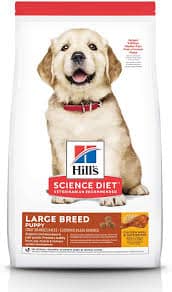 You've undoubtedly heard of Hill's Science Diet. They offer a wide range of dog food options and they even sell cat food too.
I'm personally a big fan of their dry dog food because it's good for a wide range of dogs and it's easily chewable. Because this food is small, it's very easy for smaller dogs to chew it up and swallow it down without any trouble.
Even better, veterinarians far and wide recommend this brand. It even has veterinarian certification on the label.
As far as dog food goes, this dry food is great because it doesn't have any artificial preservatives or colors, and it contains all-natural ingredients made in the USA.
Far better, dogs tend to love the taste and dog owners love it because it has healthy nutrients and balanced ingredients that allow pups to live long and healthy lives.
Giving this to your dog means you're putting your dog's health first.
Additionally, this food even has probiotics and fiber within, which is great for digestion for smaller dogs.
It's available in more than one flavor, but the most popular formula appears to be the chicken recipe.
Solid Gold Buck Wild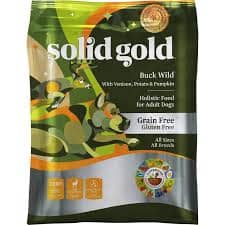 This is the first holistic pet food sold in America and this grain-free and gluten-free recipe was formulated in 1974.
This particular version has real venison within and dogs seem to love it.
Even better, if your dog is sensitive to chicken or another type of food, this is an excellent alternative.
Dogs love it and think the food is delicious and tend to devour it. That's great because it has muscle building protein inside promoting health and longevity.
Other ingredients include chickpeas and pumpkin. They provide Omega fatty acids and they aid with digestion along with other probiotics, prebiotics, and superfoods for perfect dog health.
Purina One High Protein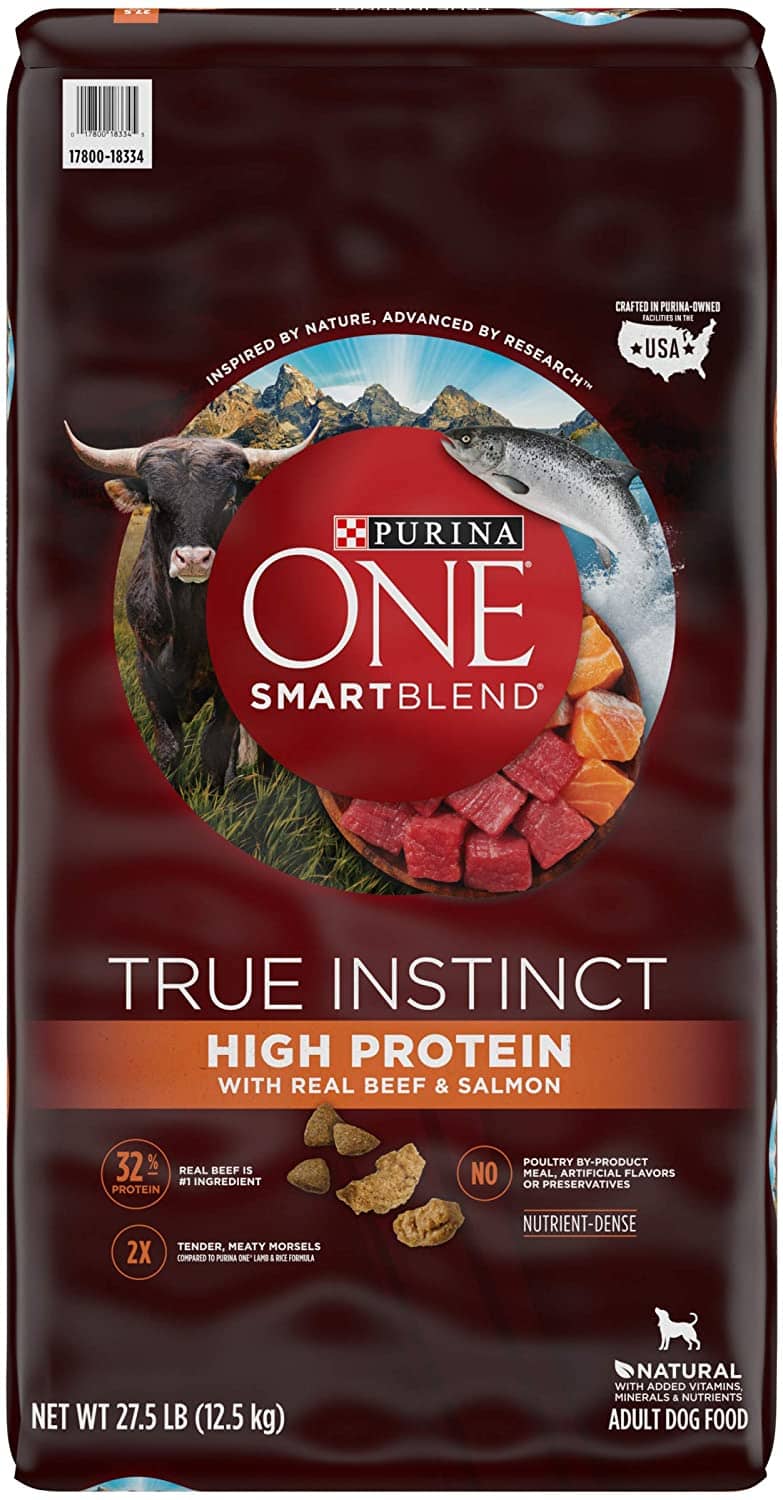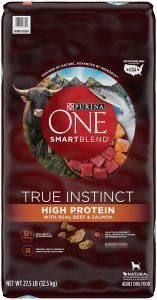 This next dog food is a great choice and definitely deserves to be on this list.
All healthy dogs need lots of protein to remain strong and fueled to have lots of energy throughout the day.
This food definitely meets all dog needs because it has 32% protein, which is much higher than other food sources that are available today.
The turkey and venison flavors are definitely good options, but the salmon and beef is just as delectable. Choose one based on your dog's preferences. Or give him or her both and let your pooch decide!
This dog food has lots of nutrients and is perfect for every breed of dog, even the adults.
Even more important, dogs love this food and eat it in plentiful supply at mealtimes because it is so soft and chewy and easy to digest.
And because it's so moist and soft, you don't have to worry about it accidentally damaging your dog's teeth.
And with all the great tasting protein, and rich antioxidants, your dog is going to remain in good standing with healthy joints.
Purina One High Protein only uses the best dog food ingredients and high-quality meat. It doesn't have any artificial colors or flavors, which makes it a wonderful choice.
Wellness Core Rawrev Natural Grain Free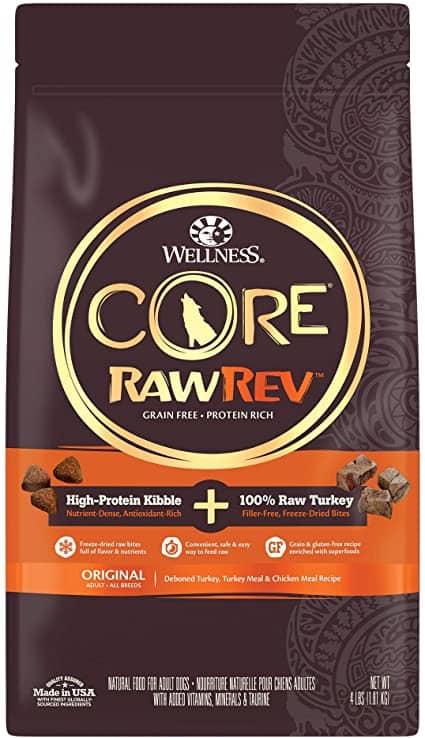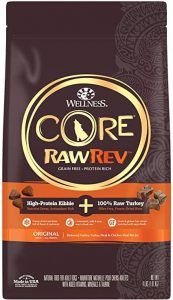 The next item on the agenda is a great choice for small dog breeds. It's got a weird name called Wellness Core Rawrev, but do not let the strange name fool you.

This grain-free recipe is soft, healthy, balanced, and complete.

Even better, it has a great combination of different meats and lots of flavor options. Your choices include boar, wild game, chicken, and turkey.

Even more exciting is the 100% raw turkey in freeze-dried bites.

This food contains high-quality protein which is the flawless fuel for your dog.

On the other hand, it's raw food which is very easy on your dog's digestive system and easy to introduce into its diet.

Unlike many other dog foods, this one contains 38% protein!

It also has lots of healthy fiber, carbs, and fat. And it has minerals, vitamins, and Omega fatty acids as well.

Overall, this dog food is made in the USA and doesn't contain meat byproducts or fillers. It's a high-quality food at an affordable price.
Purina Pro Plan Savor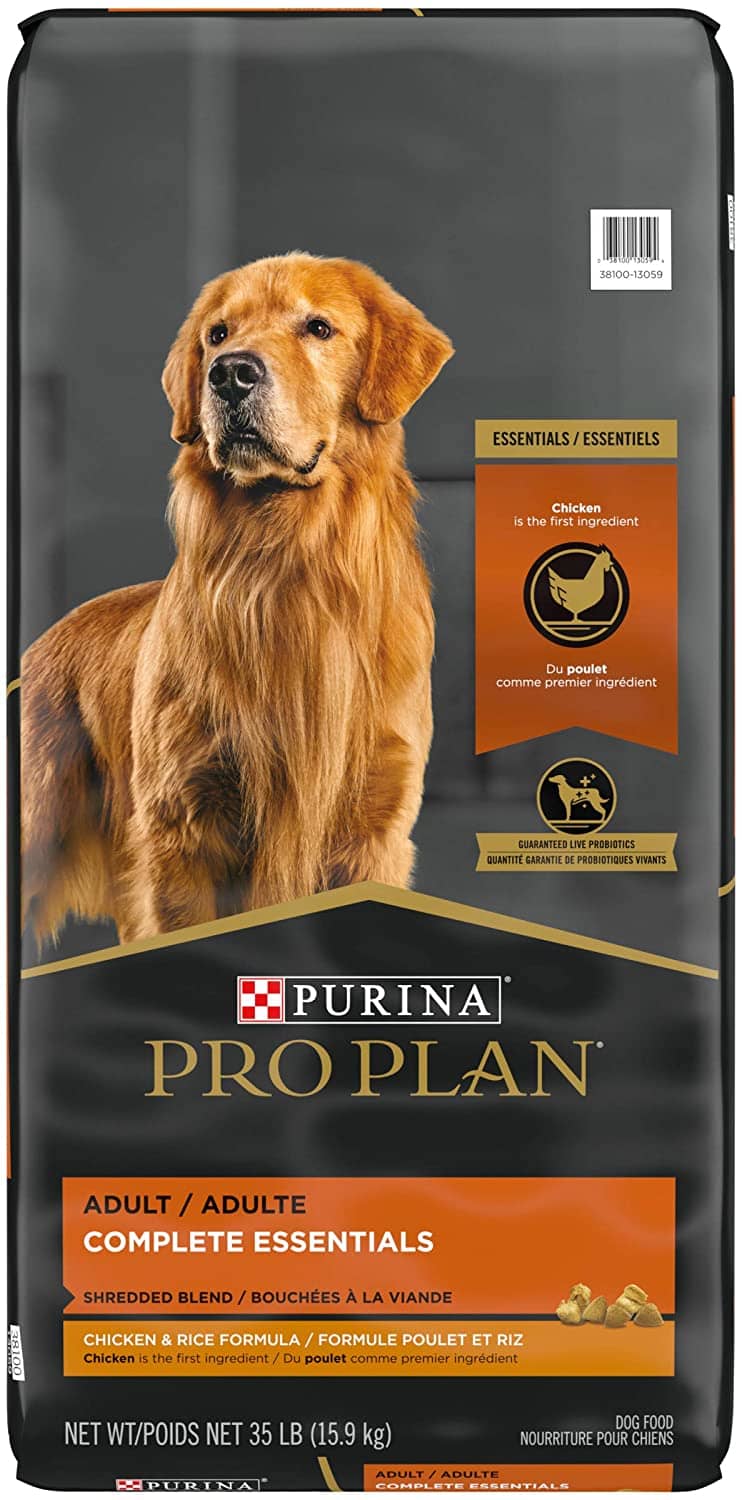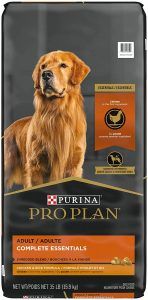 This type of dog food called Purina Pro Plan Savor is also a fine choice. It has multiple flavors including lamb and rice, beef and rice, salmon and rice, and chicken and rice.
It delivers a fine combination of carbs and protein, which gives your dog ample fuel to have plenty of energy throughout the day.
The recipes contain high-quality meat, and probiotics to aid with digestion and also support immune health.
Even more exciting, your dog will get a healthy coat and a beautiful shine from the Omega fatty acids, minerals, and abundant vitamins.
The formula is in smaller pieces, which makes it easy for all dog breeds to chow down on this recipe.
Solid Gold Fit and Fabulous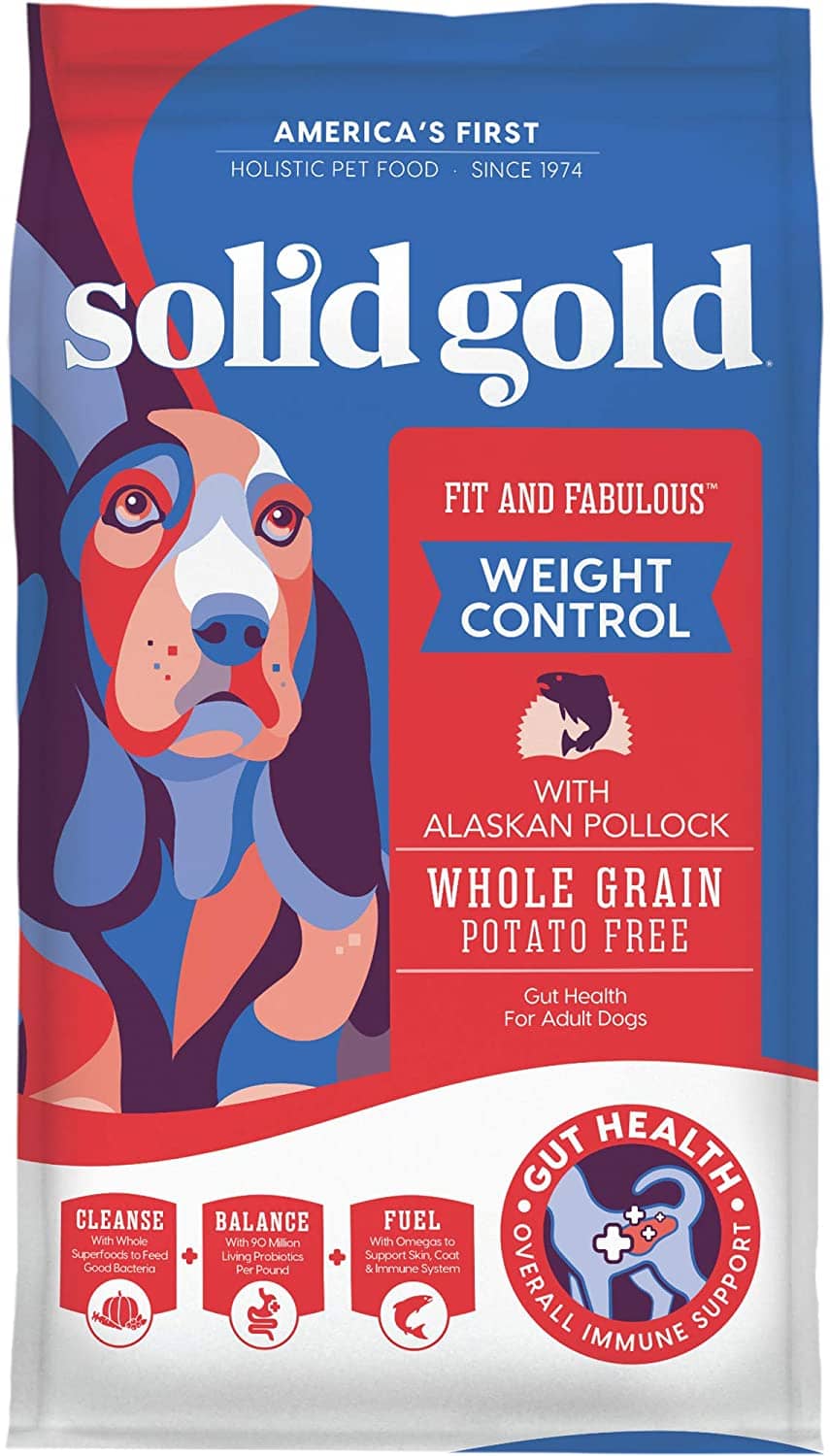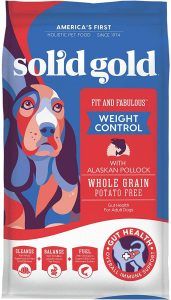 Is your dog currently on a diet? Or is he or she getting older?

Either way, Solid Gold Fit and Fabulous is an excellent choice for older and overweight dogs.

This blend is holistic and free of potatoes, which makes it easy for your pup to shed extra unwanted weight.

But don't worry because there are lots of great tasting foods and flavors in this formula like chicken and Alaskan Pollock.

Additionally, there are lots of superfoods – 20 of them – within this recipe including sesame oil and broccoli. So, you know it's healthy and worthwhile.

Your pooch should have no problem easily digesting this food.

It has prebiotics, fiber, and patented probiotics to boot. It provides great gut health for dogs of all ages.

And the calories are also limited and controlled as well, but the great tasting goodness still remains in this recipe. Your dog will love it!
Eukanuba ACTIV Advantage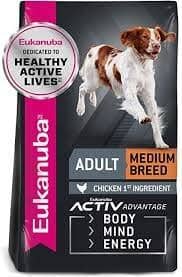 Finally, our last choice is a wonderful option and particularly healthy.
Most importantly, it's a good choice for adult dogs that need smaller bites because the food is available in small chunks.
It's easy to chew dry food with lots of chunky meet in the recipe.
It's designed for active dogs, even if they just love to play fetch or actually participate in sports.
Better yet, it's a healthy meal and contains sufficient levels of chondroitin and glucosamine to help maintain joint health. And lots of protein is in this formula as well for extra energy.
Young pups will grow up fast eating this food.
This recipe also contains lots of carbohydrates and fats, which provide extra energy for your dog to last on throughout the day.
It's going to help your dog thrive even when it exercises strenuously.
It also prevents tartar buildup because it contains 3D DentaDefense.
Your dog's teeth and gums remain healthy and vibrant throughout its life eating this brand.
All in all, this recipe has just about everything in it, which makes it the perfect choice for dogs of every age. Best of all, the food is soft so aging dogs or dogs with bad teeth can eat it without a problem.