Easy to Use and Stylish Dog Carrier Slings Do Exist!
Are you in love with your favorite fur ball? Does he or she mean the world to you? People who absolutely fall head over heels in love with their pets love to bring them along wherever they go. If you are one of these people, you'll need a way to carry your favorite pup with you on your daily excursions.
It's fun to bring your furry little friend with you while buying groceries or while taking a trip to the library or department store. It'll be a lot easier to bring your pooch along if you have a dog backpack carrier in tow.
At other times, your small dog might not feel that well and it would prefer to stay close to you. A great solution is to keep your small pup in a pet sling. This exciting accessory makes it possible to keep your hands free and lets you continue to perform your day-to-day tasks and still stay close to your pup as he or she gets much needed rest.
Our Best Recommendations for the Top Dog Slings
Alfie Chico Reversible Sling
Washing machine safe
Bigger size means extra comfort for your pup
Sturdy
4 Lazy Legs Adjustable Pet Carrier
Made of 100% cotton
Shoulder strap is padded
Hot days make the drawstring itchy
FurryFido Pet Sling
Tall people will not appreciate smaller strap length
Safe to put in the washing machine
Material made of Jersey cotton
PYRUS Dog Sling
Shoulder strap is adjustable
Flimsy bottom pad
Comes with an extra pocket
Bro'BearI'Pet
Made with a safety collar
Shoulder straps aren't adjustable
Produced using a soft fabric
Timetuu BUY Dog Sling
Phenomenal customer service and support
The sling is very comfortable
Some users feel it's too bulky
Inviktus Oxford Cloth Dog Cat Carrier
Doesn't look fashionable in appearance
Holds up to 13 pounds
Comes equipped with a 7-inch zipper
HITOP Pet Sling Carrier
Reversible design
Thin material isn't sturdy enough for larger dogs
Material is soft and comfortable
The Biggest Benefits of Using a Dog Carrier Sling
Dogs tire out easily when long distance walking is required. This is especially true when your dog is still a puppy. At other times, someone might unintentionally kick or step on your dog as it's running in and out between people's legs.
Think about treating your small dog like you'd treat a baby. Carry it in a dog carrier sling.
Pet slings have a large pocket for the dog and a comfortable shoulder strap. After you place your pet inside the carrier, you can bring him or her along with you safely and freely wherever you go. It's perfect for cats and dogs alike.
Some reasons to consider carriers for small dogs include:
Solidity and sturdiness – these pet carriers are strong and stable. They also make it possible to perform numerous tasks with your furry friend in tow without dropping him or her.
Cleaning is easy – you can clean most of the dog carrier slings in the washing machine because they are typically washing machine safe.
Hands-free carrying – most people love pet slings because it gives them full access to their hands. They do not need to carry their puppy around while holding them. This additional freedom makes it easy to live your life while still keeping your pet with you close to your heart.
Lightweight design – dog strollers are often heavy and bulky. These slings are made of light fabric very similar to a tote bag. Most people won't even notice that you're carrying your small dog around with you.
Adjustable – you can adjust the sling to fit your dog as it grows.
Inexpensive – compared to most pet carriers, pet slings are the inexpensive choice.
Stylish – pet slings are not only functional; they are also very stylish as well. There are a number of options made of numerous designs that will perfectly fit your style and outfit choices. They are typically made of cotton and deliver numerous possible designs.
Protected – your pup is safe and protected within its pet sling. This prevents fear and anxiety from stirring up your little guy.
Multiple sizes – pet pouches are good for dogs that weigh less than 10 pounds. But you can adjust the strap and make the pouch different sizes. We recommend a dog carrier backpack if your dog weighs over 10 pounds.
Comfortable – the sling is comfortable and your pet's weight is easily distributed. So, it will not hurt to hold your dog for a long length of time.
Note: Pet slings are typically made for dogs weighing 5-15 pounds. For larger dogs, consider a backpack carrier for canines.
Should I Consider a Dog Stroller?
For the most part, if you only have a single dog you really won't need a dog stroller. But if you own two or more small dogs and plan to bring them with you when you go out, you may prefer a dog stroller for comfort and safety purposes.
Little dogs typically require extra focus and attention than their bigger counterparts while in public. A dog stroller is a simple way to provide focus and attention while still conveniently going about your day. Some dogs become very anxious in dog strollers so keep that in mind.
Important Aspects to Consider When Choosing a Pet Sling
Before picking your favorite pet sling, you need to understand all of the various aspects to consider prior to making your final choice. Do you know what to look for when choosing the perfect pet sling? Keep reading to discover important truths:
Material – you obviously want your pet to feel comfortable while you carry it around for extended periods of time. Choose a sling or backpack with comfortable material. Cotton and fleece are two very comfortable fabrics and polyester is a less-expensive close second. Snug pet slings are soothing to your precious and scared pet.
Collar clips – the clips should be made of strong plastic or metal to keep your pooch secure. These clips are needed to prevent your dog from jumping out of the sling, but act specifically as a backup for emergencies.
Closures and zippers – the safety collar clips are definitely of the utmost importance. But a zipper or other closing mechanism is even better for more lasting security. Choosing a sling with the closure system means your small dog can stick its head out yet stay safely snug within the sling.
Straps – when choosing a sling, make sure it has a high-quality adjustable strap so that it fits perfectly around your neck and shoulders. This is an important feature for everyone but even more important for people of average height.
Comfort pads – comfort pads are needed to make you feel comfortable. It's basically a padded shoulder strap that provides a cushion to prevent your shoulder from hurting after carrying your dog for long periods of time.
A Review of the Best Dog Slings Currently Available to Purchase
The slings that we're about to share with you are considered the top rated in this category. They are made with the unique design, strong and sturdy material, and they are built to last. Use them to carry puppies, cats, small dogs, or even dolls if you prefer.
Our Best Recommended Top Dog Slings
Alfie Chico Reversible Sling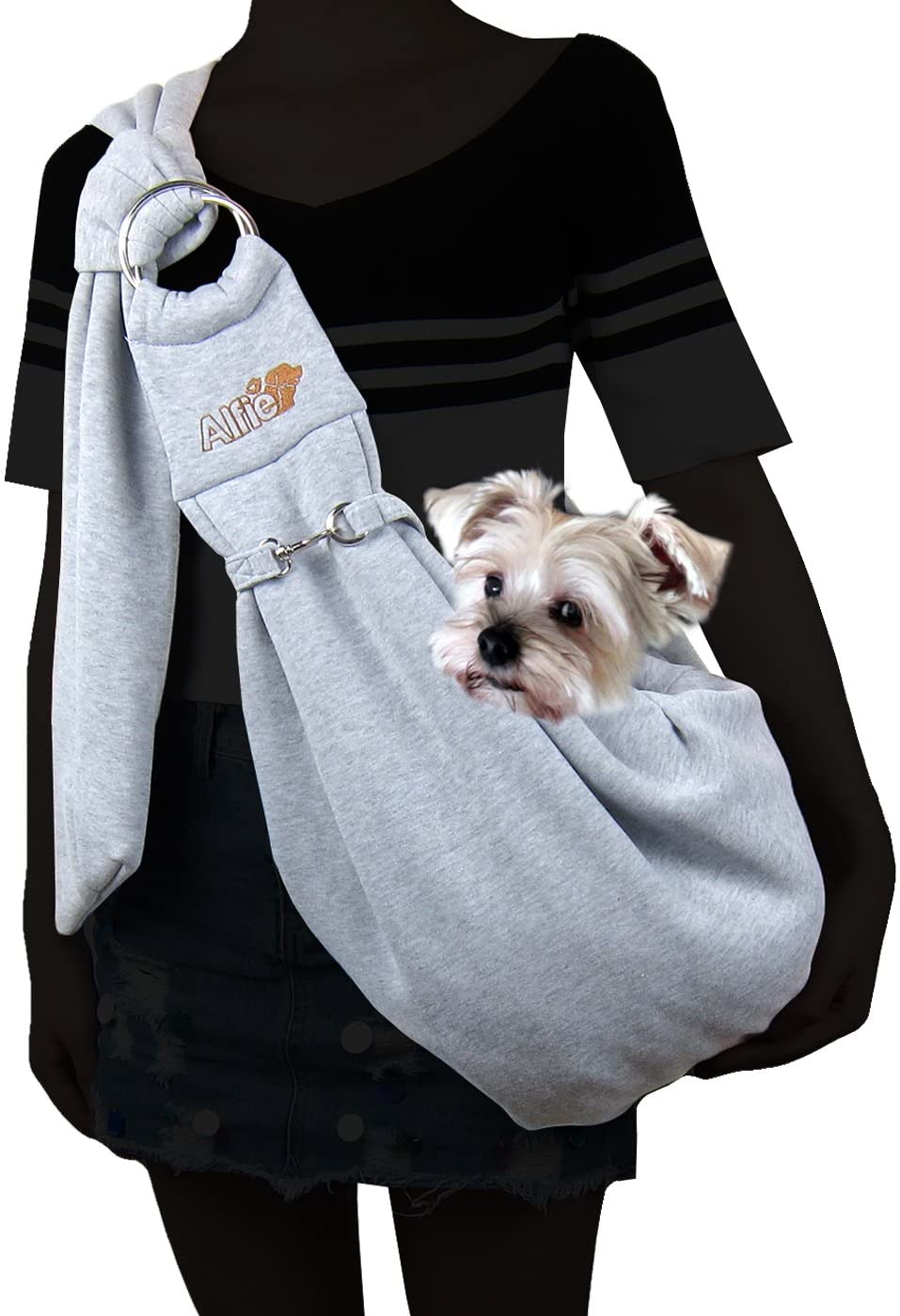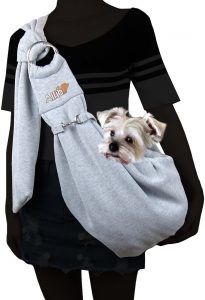 Are you on the hunt for a dog carrier with all of the best and newest features? The reversible sling from Alfie Chico is convenient, stylish, and very easy to use. It's 9 inches deep, which makes it perfect to accommodate puppies and small dogs that weigh 12 pounds or less. The material is made using fleece and cotton, so it's cozy and comfortable and capable of being washed in a washing machine.
This pouch is available in two different versions. One of the pouches has an adjustable strap while the other pouch does not have an adjustable strap. If you decide to go with this sling, you should choose the option with the adjustable strap because it provides added comfort.
The version with the strap has a large metal ring that lets you lengthen the strap from 14"-35". This provides a secure fit no matter how large or small you happen to be. Furthermore, it also has a safety collar hook that will protect your dog as it lays comfortably within the pouch. Another thing to love about the adjustable version is the wide array of color patterns available for all likes and preferences.
Pros
Well-made and sturdy design
You can still use it for dogs weighing more than the recommended weight capacity
Washing machine safe
Cons
On the adjustable strap, the large metal ring is uncomfortable on the neck or shoulder
4 Lazy Legs Adjustable Pet Carrier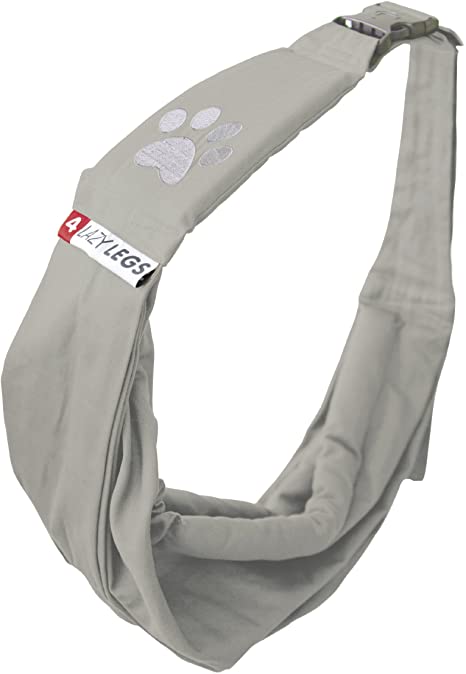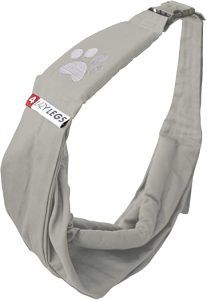 Finding an incredible dog carrier sling is never the easiest thing to accomplish. But the Lazy Legs carrier is an outstanding choice. Use it to carry your dog inside the house or outdoors as you bring it for a walk through the park.
The material is made from sturdy 100% cotton. This makes it very simple to transport your pet in a machine washable clean pouch. And cotton is an incredibly soft fabric, so your small dog will feel extra snug and cozy within their safe little haven. This pet carrier was specifically designed for animals that weigh 30 pounds or fewer.
Pros
Comfortable padded shoulder strap
Sturdy canvas made of 100% cotton
Pet soothing padded edges
Machine washable design
Additional security w/ tether clip
Evenly distribute your pet's weight
Drawstrings provide a snug fit
Cons
Adjustable pet carrier maximum weight is 30 pounds
The drawstring isn't very comfortable
FurryFido Pet Sling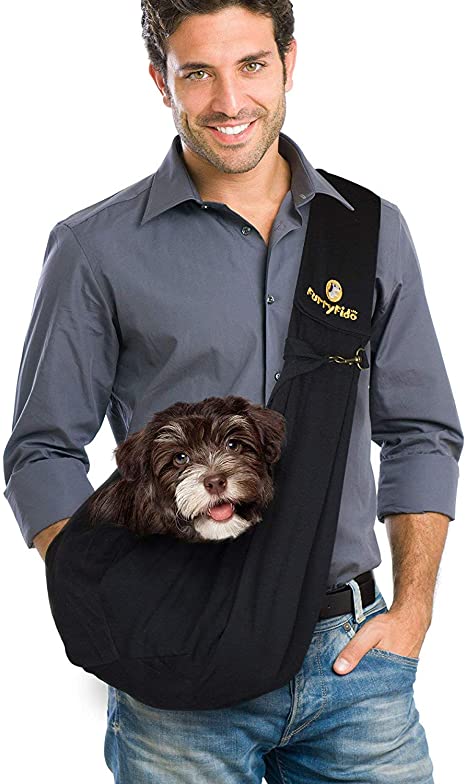 The Pet Sling from Furry Fido was specifically designed for smaller dogs that only weigh as much as 15 pounds. But compared to many of the other slings on the market, this weight limit is actually quite impressive. You can easily fit a 16-pound dog within this pouch even though the manufacturer doesn't recommend it.
The overall design is made of cotton and it has a wide strap. This helps provide total support and evenly distributes the weight of your pet across your shoulders. This is a great way to carry your pet for long periods of time without receiving bruises or pain on your shoulders. The design is also reversible, so you can turn it inside out to better color coordinate with your outfits. It's a helpful pouch that you'll be glad you brought with you if you're carrying around your pet while running errands, shopping, doing housework, or even hiking.
Furry Fido is focused on providing an excellent experience so they only choose the best materials when creating their dog slings. This carrier was constructed using incredibly soft cotton. You'll never feel agitated carrying it around your neck and your pet will feel comfortable hanging in it for long stretches of time. This sling even has a seatbelt to keep your dog firmly strapped in so he or she doesn't get hurt.
Pros
Made using top-notch Jersey cotton
Stylish reversible design
Machine washable material
Added comfort for pets and pet owners
Cons
The length of the strap is too long for short people
PYRUS Dog Sling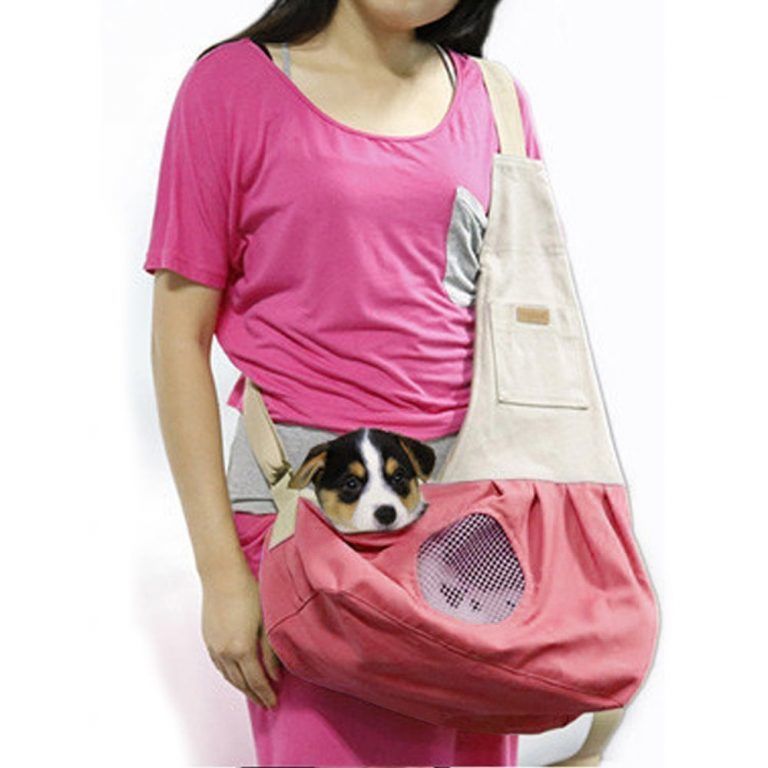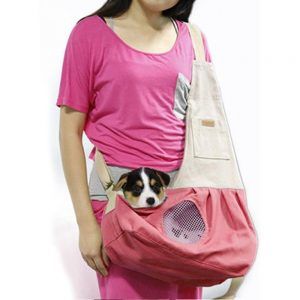 This dog sling is innovative to say the least and it has many excellent features that are great for pets and pet owners alike. As an example, this sling comes fully equipped with an additional pocket with a zipper. You can put other things in this extra pocket like your smart phone, your keys, or doggie or cat treats.
The design is made up of felt cotton, which means you can put it in your washing machine and clean it very easily. Plus, this material is sturdy and strong yet soft and cozy. Your little dog will feel safe, secure, and snug within this practical pet carrier.
This bag also has a ventilation window which is excellent for your little pup. The mesh is breathable, provides additional cooling on hot days, and it's very easy to clean. Your dog will have fresh air and not have to suffer from dampness because of this exciting design.
The pouch has adjustable straps that you can alter to perfectly meet your needs. And there is a fleece pad at the bottom of the sling that is removable and machine washable. It's also very comfortable and your dog will love it.
Pros
Many great features provide a comfortable fit for the pet owner and the pet
It has an additional pocket perfect for keys and other accessories
Shoulder strap is adjustable
Cons
The extra fleece pad on the bottom is on the flimsier side. Insert a stiff board beneath it for additional support.
Bro'BearI'Pet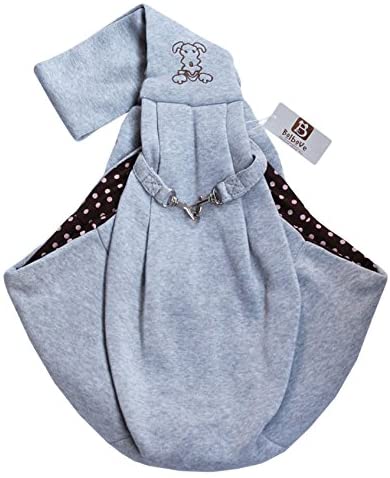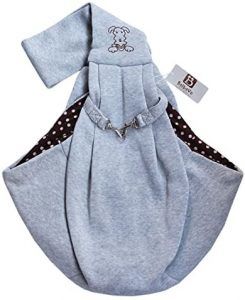 Is your furry little friend sick or very anxious? Some people feel stressed if they have to leave their unwell or unhappy puppy at home as they run errands and whatnot. There is a better solution and it comes in the form of the Bro'BearI'Pet pet carrier. It's perfectly designed to fit small dogs that weigh around 12 pounds. The material is made of a blend of polyester and cotton that provides comfort and style. It's also reversible and it has two specific colors on each side.
The material is really easy to clean which so many people tend to love. Just put it in the washing machine and let it dry and you'll be able to reuse your pet carrier in no time at all. The polyester blend isn't cheap by any means. This material is sturdy, thick, and made of the highest quality. In fact, to make the pet carrier last even longer you should always wash it using cold water for the best results.
Pros
Small dogs love this pet sling because of the soft fabric
It has a reversible and stylish design
External security clasp keeps pets from jumping out of the sling
Washing machine safe
Cons
It has a nonadjustable shoulder strap
Timetuu BUY Dog Sling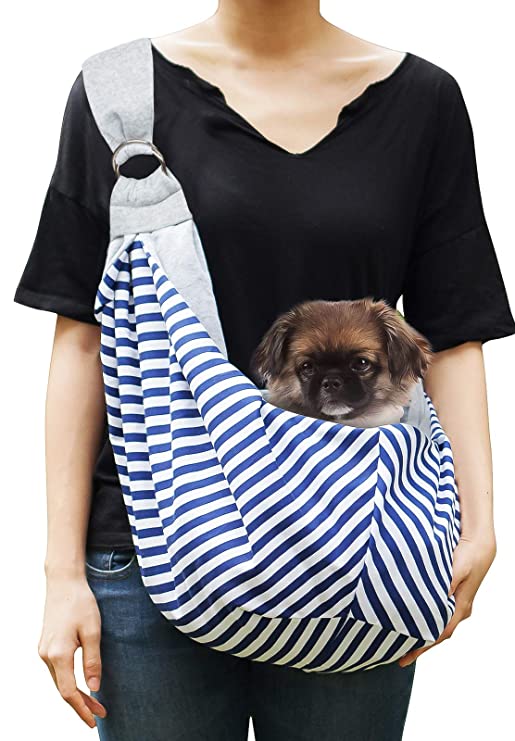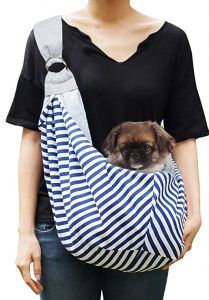 This highly rated and beloved pet carrier from Timetuu BUY is a dream come true for many pet owners. The shoulder strap is adjustable and can be made to fit nearly every body type. It's great whether you're short or tall, because the sling is designed perfectly to accommodate your dog and you. The carrier is also covered with thick padding on the bottom and it possesses sturdy buckles that make it easy to adjust the length of the strap. No rings or ties are needed because the buckles get the job done.
This dog sling was designed for small dogs and it accommodates them well. You can easily carry your dog around without having to worry about dragging him or her around on a leash. This sling is machine washable and attractive and comes with an extra pocket perfect for your keys, wallet, or phone. There is even a zipper to prevent them from falling out. And there's a collar clip to keep your small dog confined and incapableof jumping out of the sling.
This carrier is only available in one size but there are three different color combos to choose from. The manufacturer hasn't shared a recommended weight limit, but from personal experience I know that it can handle around 12 pounds or less.
Pros
Comfortable design
Easily adjustable to perfectly fit your shoulders
This company is known for its impeccable customer service
Cons
The size is a minor concern for people with heavier/larger dogs
Inviktus Oxford Cloth Dog Cat Carrier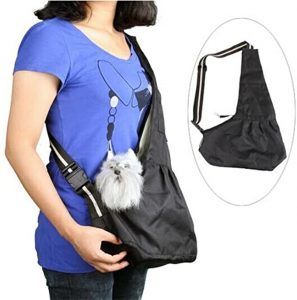 This cat and dog carrier from Inviktus have an adjustable shoulder strap and it's made from breathable material. On the bottom of the bag you'll find a strong pinch clip that will prevent it from hurting your shoulders, which is a nice change of pace since most sling buckles tend to hurt after long periods of time.
This bag has a 7-inch zipper that you can use to keep your pet completely locked in and secure. This sling is available in three different sizes and two colors which provides a nice change of pace since there's lots of options to make your own selection.
For the most part, these pet carriers were designed to carry dogs that weigh 13 pounds or less. It's a soothing design that will definitely keep your dog warm on the colder winter days. It has a small side pocket that's perfect to put small items in. It isn't very bulky, so you can even fit it right under your coat. It's an excellent choice to transport pets, but you could also use it as a bag to carry around things while running errands.
Pros
Made with Oxford fabric
Utilizes a 7-inch zipper
It has an adjustable strap
Carries pets that weigh as much as 13 pounds or less
Cons
Measure your dog prior to ordering to make sure you pick the ideal size choice
HITOP Pet Sling Carrier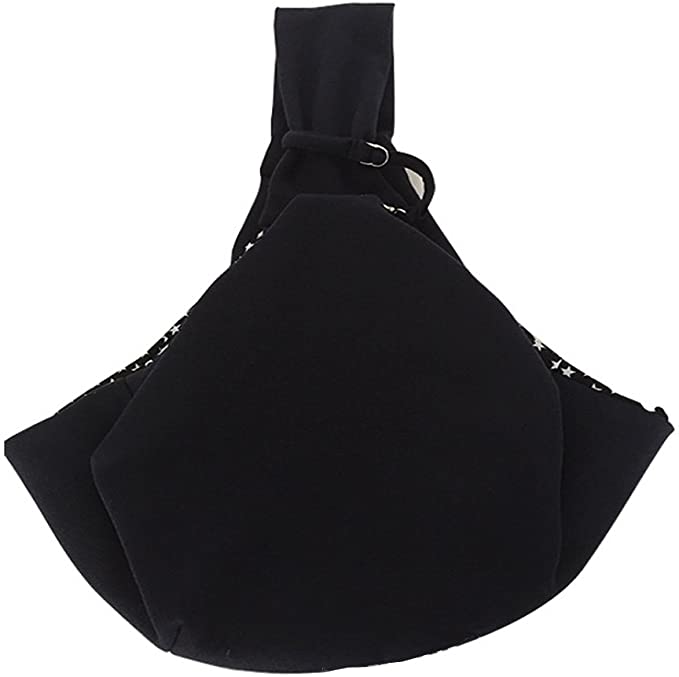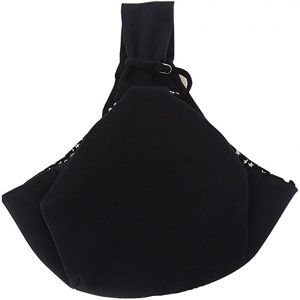 This carrier is designed for small dogs. It's 23 inches long, 15 inches wide, and 19 inches deep. This bag is made from a cotton polyester blend, it has a comfortable design, and it was created to last for a long time.
The manufacturer says that its capacity holds dogs weighing 12 pounds or less. It's available in three different colors including blue, black, or pink and they are all part of a plaid design.
Customers like this sling because it's safe and practical. You'll experience peace of mind knowing that your pet is protected at all times in its comfortable sling.
Pros
Reversible design
Forgiving material
Safety collar included
Washing machine ready
Good for dogs weighing 12 pounds or less
Cons
Cannot accommodate dogs weighing more than 12 pounds
Shoulder strap isn't adjustable
Pet Sling User Safety Tips
Bringing your dog with you while shopping outside or indoors can be a dangerous proposition. You should pay attention to and follow the recommended safety guidelines to make sure your pet remains safe and secure. If your dog suffers an injury while carrying him in the sling, he or she may never want to go back inside it again.
Here are the recommended safety guidelines:
Always Use a Collar Clip
This clip is great because it will prevent your dog from jumping out of the bag when least expected. It will keep your pup secured within the sling at all times. Or if you prefer, you can use a harness instead of a dog collar to keep your pet secure.
Washing Machine Recommendations
When washing the sling, always snap all the snaps and zip all the zippers. This will prevent them from breaking during the washing or drying cycle.
Regular Sling Inspections
Look over the sling to see if there are any weak areas and signs of wear and tear. Your dog may accidentally damage the sling with his or her claws.
Keep Your Dog Clean
Keeping your dog clean is necessary to keep a clean dog sling. Give your pooch regular baths so your sling doesn't begin to smell.
Buy the Right Sized Sling
Choosing the right sling size is necessary for maximum comfort for you and your pet. A sling that is too big will make it difficult for you to walk around. You may accidentally trip and fall and no one wants that to happen. Make sure the sling you wear is small enough that you can remain upright with your pup inside. The point of owning a sling is to keep your arms free, but your legs need full freedom of movement to boot.
Keep Your Dog Positioned in Your Frame of Vision
You should be able to look at your dog at all times while it is in the sling. Otherwise you may end up with an unexpected surprise that you aren't prepared for. Keep your dog on your stomach or hip so it always remains within sight.
Add a Wee Wee Pad
Consider putting a wee wee pad in the sling. This is especially true if you have a puppy because it promotes good hygiene in case it accidentally relieves itself.
Strengthen the Bottom with Cardboard
Dogs have sharp claws and the cardboard will prevent it from ripping through the sling's material. The cardboard also solidifies the carrier and gives it good shape.
Perform a Temperature Check
Slings can get very hot and the material might make your dog pant a lot. If your dog pants quicker than normal, take it out of the sling to let it cool down.
Care for Your Pet Carrier
Would you like your pet carrier to last? If so, you need to take good care of it. Wash it regularly and repair it when parts get damaged. This will help keep your pet sling looking as good as new.
Do All Dogs Prefer Being Carried?
It may seem like all dogs like being carried, but many of them do not enjoy the experience. Experiment first before buying a pet sling to see if your dog is comfortable being carried.
Does Carrying a Dog Spoil Him or Her?
Some pet owners worry that they are spoiling their dog when carrying them around. Guess what? You spoil your dog all the time anyway when you give him lots of extra treats and plenty of exciting belly rubs. Do you let your dog sleep with you in the bed? If you answered yes then you are spoiling your dog big-time.
Carrying dogs around is a popular trend right now. Some people love using pet carriers when their dogs are small. Many people are even carrying around larger dogs now which is kind of surprising.
More often than not, you should carrier dog if it isn't feeling well or if it's injured. Another time to carry a dog is in situations when things are hazardous like when it's near broken glass, or walking near a construction site, or walking through a crowded area.
Carry your pet whenever a surface presents itself that could be dangerous to bare feet. Otherwise you have to decide whether or not carrying your pup is a good idea.
Bringing Your Pooch on an Airplane
You may need to bring apet with you on a flight. Many airlines permit birds, rabbits, cats, and dogs within a carry-on bag. Just make sure the carry-on bag is TSA approved. It must be well ventilated for your dog's comfort. It should have a harness or clip to keep your dog secured within. And remember to bring along lots of treats to keep your pup happy.
Bottom Line
The PYRUS Dog Sling is our top recommendation because it has many positive reviews online and it's a really innovative dog carrier. It has exclusive features like a pocket strap and breathable mesh that's hard to find on other carriers. Plus, it is a great pet sling for budgets of all sizes.
At the end of the day, you can't go wrong choosing any of the slings mentioned today. Just choose one that's perfectly suited to meet your needs.